Last Updated on June 7, 2023
After reading this buying guide and reviews, you will be able to choose the best cordless weed eater (string trimmer) for your needs.
if you are pressed on time:
✅The Best Battery-Powered Weed Eater
brushless "smart" motor
powered by 2 fast charging batteries for maximum power and run time
3-speed options
*This post contains affiliate links. If you choose to purchase any of the products I have recommended, I may receive a commission at no cost to you.
A battery-powered weed eater or weed whacker (also known as a cordless or battery-operated string trimmer) is ideal for trimming grass and weeds along fences, around small yards and patios, flower and garden beds, mailboxes and trees, driveways and walkways.
And with zero emissions, lower noise, and considerably less maintenance than gas-powered string trimmers, a battery operated weed whacker is the way to go!
But with numerous electric cordless string trimmers on the market, many customers wonder which battery powered weed eater is the best?
In this article we'll review in detail 3 top electric cordless trimmer models for 2022 and mention some runners-up to choose from, so you will be able to easily get a tool that fits your needs the most.
IN THIS POST:
What to look for when buying a battery operated weed wacker
3 top battery powered weed eaters reviews:
Makita XRU15PT1 – best cordless trimmer overall
Ryobi – most powerful weed wacker, best for tougher jobs
Worx WG 163 – best budget friendly string trimmer
About other cordless string trimmer models worthy consideration
Electric corded string trimmers vs battery operated weed eaters vs gas weed wacker
How Weed Eater was invented
How weed wacker and string trimmer got their names
How to use a string trimmer safely
Are cordless string trimmers any good?
Let's get started!
What should I look for in a cordless string trimmer?
In order to choose the best cordless weed eater, you should understand some string trimmer terminology and available features, so you can make a comparison between available models as a pro!
And then, depending on the volume of your trimming work, and on things that are most important to you personally (for example, you would rather choose comfort vs price, or vice versa ☺️), decide which cordless weed eater to purchase.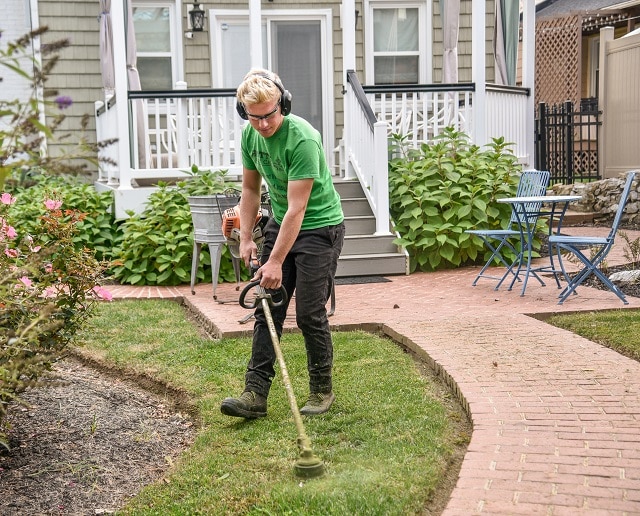 String trimmer terms you should get to know:
Trim width: this is a diameter of the swath of the strings as they spin. It ranges from 12 to 15 inches in different models, some weed whackers even offer adjustable trim widths. The larger trim width will increase your productivity and will be useful for large trimming jobs.
Battery: the higher the amp hour rating on the battery, the longer the battery charge will last.
Motor. Weed eaters can come with brushed and brushless motors. A brushless motor delivers Increased run time and power. According to Popular Mechanics magazine, a tool with a brushless motor adjusts according to the task, it pulls only the charge it needs from the battery. That is why brushless motors are called "smart".
String management Some weed eaters have pre-wound spools of string readily available which makes it easy to replace, but in some string trimmers you must replace string by yourself. And because the string is stiff, it might be hard to manage and wind neatly without crossed lines. If you value your time and don't want to get frustrated, get a trimmer with pre-wound replacement spools or with an advanced string management system.
Variable speed: if offered, this option allows the user to go at a lower speed where more precise cuts are needed, or at a higher speed for a tougher job. Lower speed also pulls less charge from the battery.
Tool weight: if a string trimmer is heavy you will get tired quickly by using it. Consider the amount of strength you have, and pay attention to the weight and the length of the tool. Also, if a weed whacker is hard to control you cannot cut precisely and might damage plants or bushes around which you are trimming grass or weeds.
Ergonomics: check if the shaft is telescopic, so you can adjust and comfortably use the tool. Some models come with an adjustable handle on the shaft, so it can be fitted to right or left hand operation.
Safety: most weed whackers have a "kill switch" that turns it off, but some don't. Kill switch is a throttle or trigger that you constantly hold while you're using the device. When you release this trigger, the tool automatically shuts off. If your weed whacker doesn't have this type of throttle, find out how to safely turn off the device before you start using it.
Shaft: can be straight or curved. The straight shaft allows you to work in tight spaces. It is a preferable option if you have a small yard to take care of.
Multi functioning: some weed whackers are stand alone tools and some are advertised as trimmer/edger. If a tool offers an edger option, check if the edger has wheels to guide the tool along an edge.
Pivoting cutting head: allows you to use the tool as an edger, or adjust it to trim grass and weeds on slopes.
Also, consider if the tool that you want to get accepts other attachments you might want to obtain in the future and if the battery is interchangeable with other tools of the chosen manufacturer.
How Was Weed Eater Invented?
The first weed eater was invented by George Ballas in 1971 out of necessity, when one of his employees was bitten by a poisonous snake while trimming the lawn with grass shears.
George Ballas got the inspiration for the tool from watching his car getting cleaned by spinning bristles in an automated car wash.
The first two Weed Eater models were called the "Weedie" and the "Clippie."
Weed Eater was sold to Emerson Electric company, which later merged with Poulan, and finally was acquired by Husqvarna in 1986.
3 best battery-powered weed eaters reviews
3 top battery operated weed eaters for 2023 are:
1. Makita XRU15PT1 – best battery powered weed eater overall. Slick, smart, and a pleasure to use.
2. Ryobi RY40250 cordless attachment capable string trimmer – most powerful battery operated weed whacker on the market. Great for yards up to 1 acre. Battery run time near 2 hours!
3. Worx WG163.8 – best budget friendly electric cordless weed eater. It's functional and exremely affordable. Great for a small yard.
All 3 battery powered weed whackers are great performers, choose any among them according to your individual needs.
Battery (voltage/ Amp Hours): powered by two 18V LXT Batteries, 5Ah
Comes with 4 batteries and dual port rapid charger
Cutting diameter (in inches): 15"
Line diameter (in inches): 0. 080″ twisted quiet line
Line feed type: bump and feed head
Speed control: 3 speed options (low: 3,500 RPM, medium: 5,300 RPM, high: 6,500 RPM)
Motor: brushless
Shaft type: straight
Adjustable loop handle for comfort
Edging capability: can be used as not wheeled edger
Length: 69 1/4 inches
Weight (with 2 batteries): 10.4 lb
Warranty: 3-year limited warranty on tool, battery and charger
Price: on the higher end
The advantages:
Automatic Torque Drive Technology mode automatically shifts RPM for extended run time or added power
part of Makita's expanding LXT system which offers 225+ tools, so the batteries are swappable with other tools in LXT line
powered by two fast-charging 18V LXT batteries for maximum power and run time. Consumers report 40 minutes battery run time
very fast battery charge time: 45 minutes
The battery indicator shows how much charge left
The tool comes with 4 batteries that allow you to charge depleted batteries while you are trimming yard
wide cutting swath for increased productivity
The reverse rotation function allows you to quickly clear trimmer head of entangled grass or weeds
comes with a shoulder harness
not noisy
works well on heavier brushes
innovative technologies protect the tool if operated in harsh conditions, and saveguard batteries against overloading, overdischarging and overheating.
The downside
this model has a solid shaft, and can't be used as power head for attachments
Verdict: Makita XRU 15 is the best quality long lasting battery powered weed eater you can get.
Watch this YouTube video made by Silver Cymbal to see Makita XTU15 string trimmer in action. (Start from minute 1).
Battery (voltage/ Amp Hours): 40V lithium-ion/ 4Ah
Cutting diameter (in inches): 13-15" adjustable width
Line diameter (in inches): 0.080″
Reel-easy bump-feed string head for fast and easy reloading
Speed control: variable speed trigger
Motor: brushed
Attachment capable
Shaft type: Straight
Edging Capability: yes
Unit Weight (with Battery): 8 lb
Warranty 5 years limited, ad 30 days money back guarantee
Price: midrange
Ryobi 40250 advantages:
delivers power like a gas trimmer
battery charge lasts almost 2 hours
string reloads in 60 seconds or less with the Reel Easy with Speed Winder system
accepts Ryobi expand-it attachments and other universal gas attachments (brush cutter, blower, chain saw, hedge trimmer, tiller, edger, snow thrower etc) to save time, money and space
it will also accept Cub Cadet attachments
the battery is interchangeable with the Ryobi lawn mower battery (OP40501)
variable speed trigger for cutting control enables cutting easily through overgrown grass, or for precise trimming around delicate areas.
The downside
it's not easy to operate for a left handed individual. If you are left-handed, probably look at a Makita string trimmer with an adjustable handle
some buyers have problem with defective battery
some customers complained that the motor housing is right where the forearm rests and it makes the forearm hot. (In my opinion, if you use correct posture, holding your hand near the hip, it shouldn't be a problem).
Verdict: Ryobi cordless string trimmer is the most powerful battery operated weed eater on the market with great battery runtime.
Did you know?
Ryobi is the number 1 cordless lawn and garden brand.
Watch how Ryobi RY 40259 performs as a trimmer and edger in the YouTube video below.
Battery (voltage/ Amp Hours): 20V/2Ah
Cutting diameter (in inches): 12"
Line diameter (in inches): .065"
Spool line length (in feet): 10 feet
Line feed type: automatic + command feed
Speed control: 1 speed
Motor: brushed
Shaft type: telescoping
Head-Type: pivoting, tilts up to 90°
Edging Capability: yes, wheel-guided edging
Unit Weight (with Battery): 5.3 lbs
Warranty: limited
Price: very affordable
Pros:
very well priced
two tools in one: trimmer and wheeled edger
automatic spool feed ensures instant line feeding
battery works with other Worx 20 and 40V tools
the lightest weed eater on the market: 5.3 lb,
the head tilts a full 90° so you can trim in tight, awkward spaces, or so you can edge in uneven terrain
the handle is fully adjustable, so you can find a position that's comfortable for trimming
adjustable spacer guard protects plants and lawn ornaments while you are working
The downside
some users have trouble with Worx replacement spools: the string gets stuck between loops and will not feed
battery run time is low
difficult to adjust the length of the shaft
the little support wheels for edger keep falling off
limited warranty is provided, but you have to pay shipping charges both ways
Verdict: Worx WC163.8 cordless weed eater is the best budget friendly option on the market. Lightweight, functional, and very capable for the price.
How to use a string trimmer the right way
if you're moving along a fence or walkway, keep the right side of your body closer to the work. In this position the head of the weed eater will throw the grass to the left.
If you go the opposite way, the trimmer will throw grass and weeds into the cut path. The cut grass will pile up along your cut line and can choke your trimmer.
More good battery-powered weed trimmers
These two battery powered string trimmers are also great performers:
automatic Feed Spool feeds line when needed with no bumping required
you can adjust runtime and power with PowerCommand dial. Consumers report that battery charge lasts about 10-15 minutes on high power level, and about an hour on low to medium level
converts from trimmer to edger just with the turn of the shaft
very well priced
uses a battery that works with 36V and 40V MAX family of Black& Decker tools.
gear drive transmission makes this trimmer very powerful
able to cut through overgrowth and vines
heavy-duty
variable trigger with high/low speed control adds power or extended runtime
lightweight (7.4 pounds), ergonomic and balanced design will help you move freely during trimming job
part of the 20V max* system of tools.
Safety Tip
Always wear eye, ear protection, and work shoes or boots while using battery powered weed eaters.
Electric corded string trimmers vs battery operated weed eaters vs gas weed whackers
As you might know, weed trimmers can be electric (corded, or cordless: battery operated), or gas powered.
Electric trimmers are usually lighter, which makes them easier to maneuver and carry around. They also do not produce emissions and are less loud in comparison with gas trimmers.
The drawback of electric corded trimmer is that you need to have a heavy duty extension cord to use it, and be careful not to cut it while using the machine.
The cons of battery powered weed eaters are that your trimming work is limited by the time of your battery charge. The way to go around it is to buy an extra battery and have it charged and ready to go. Extra battery and charger are readily available from most manufacturers.
Also, the manufacturers of lawn and garden tools and equipment make the battery swappable between devices in some lines of their products.
For example, Black and Decker 20V Max battery can power a range of lawn and garden machines (tiller, string trimmer, hedge trimmer, sweeper), as well as vacuums and power tools. It will work with any 20 V MAX Black&Decker products you own.
Related reading. Best small garden tillers
Electric lawn and weed trimmers are perfect for maintaining smaller yards. they are easpecially great if you are female, then a battery operated trimmer is for sure the way to go.
Now, about gas weed whackers.
The advantages of gas trimmers is that they have a bit more torque, so you can use them on heavier foliage and woodier stems. Also, some gas trimmer models have detachable heads for trimming grass and weeds and for cutting shrubs and bushes.
The disadvantages of gas trimmers are that they are loud, heavy and stinky. They produce dangerous fumes.
Gas trimmers are more useful if you have a big yard and strong muscles. 🙂
Why are "weed whacker" and "string trimmer" called this way?
The tool is called weed eater because Weed Eater was the name of the company that made the first lawn and weed trimmer. And though now a lot of companies are making this tool, the name stuck.
The tool uses a thin nylon string that cuts long grass or weeds, that is why it's a string trimmer.
The point is: weed eater, weed whacker, string trimmer are all the same tool.
Related reading:
Learn more about the best gardening tools and products
Pin for later reference!
Final thoughts on the best battery powered weed eater
A battery powered weed eater is a must have tool to make your yard look neat and well maintained. A cordless trimmer has many advantages in comparison with an electric corded weed wacker or gas powered trimmer. If your yard is small, and if you are a female, a battery operated weed eater is the best choice for you.
If you are looking for a long lasting, intuitive, intelligent, sleek battery powered weed eater, pick Makita XRU15 with an efficient electronically controlled brushless motor. If you have a larger yard with lots of trimming to do, then robust Ryobi is the way to go. If your budget is tight, then Worx weed eater will fit the bill.
You have read:
Best electric cordless weed eaters