Last Updated on June 14, 2023
Transform your side yard into a beautiful and functional outdoor space with 45 creative side yard ideas.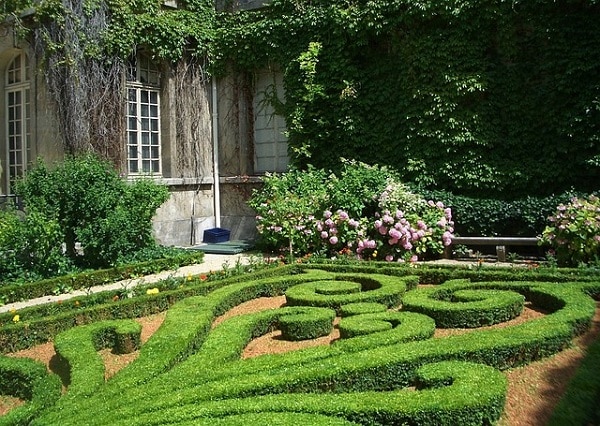 Whether you have a narrow, small, or large side yard, this guide will provide you with creative and practical solutions to make the most of this often-overlooked part of your home's outdoor living space.
From DIY garden and seating area ideas to low-maintenance landscaping and outdoor lighting options, this article is packed with inspiration and helpful tips to turn your side yard into an oasis.
*This post contains affiliate links. If you choose to purchase any of the products I have recommended, I may receive a commission at no cost to you.
Let's explore some fantastic side yard ideas that are sure to inspire you and help you get the most out of your outdoor space
Narrow Side Yard Ideas
1. Install a lean-to greenhouse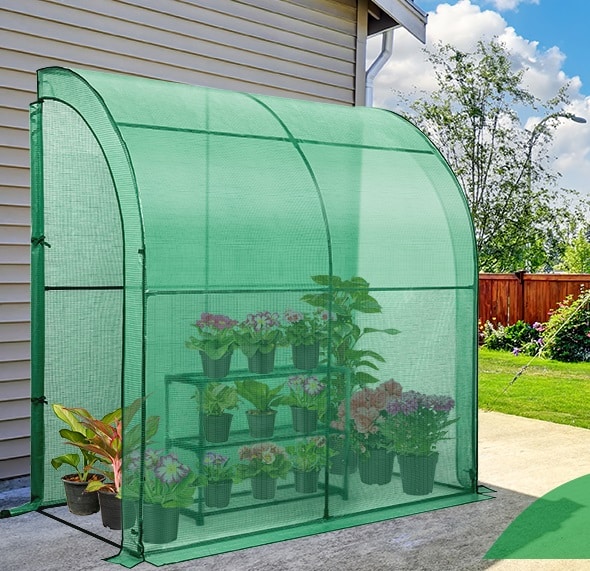 A walk-in lean to wall greenhouse is a great idea for a narrow side yard that doesn't have much space. This type of greenhouse is designed to be placed against a wall, which is a perfect fit for a small side yard. You can grow a variety of plants and vegetables in a lean-to greenhouse, no matter what the weather is outside.
2. Plant perennial evergreen ground cover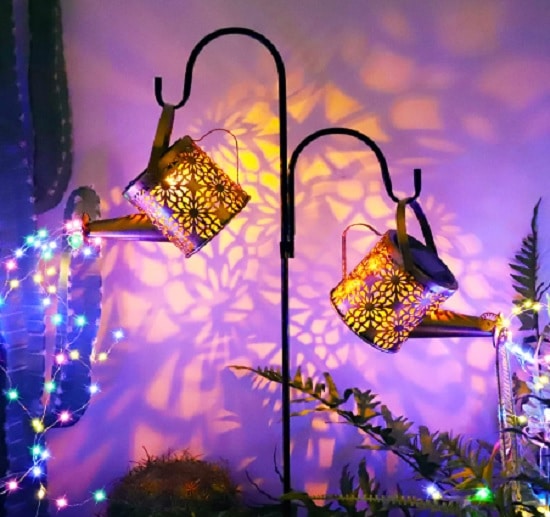 Fill the narrow unused space with perennial evergreen ground cover like periwinkle, or creeping phlox for low maintenance and year-round aesthetic appeal. You can decorate it with solar stake lights or garden statues like a gazing ball on a pedestal, sundial, or even a birdbath to add visual interest.
3. Create a walkway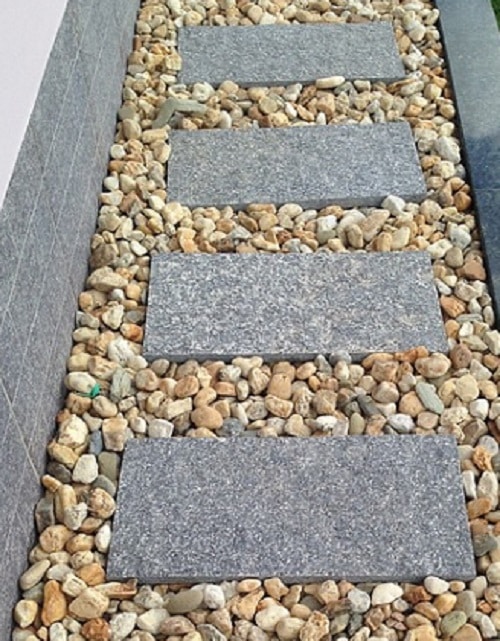 Lay down a walkway of pavers, stepping stones, or bricks to add visual interest and create a defined path through the narrow space. You can also add low-growing plants or moss between the pavers for a more natural look.
When selecting the right plants for each area of your yard, consider drainage and lighting conditions. Here, shade-loving plants, like hosta, hydrangea and ferns happily coexist to create a lush, blooming border that will return year after year."
Alternatively, if you are looking for a low maintenance solution, lay a recycled rubber walkway with an evergreen periwinkle border on both sides of the path.
4. Cover the fence and the side of the house with flowers
Install a trellis on the side of the house and grow climbing plants such as clematis, climbing roses, or jasmine.
5. Fill the space with low-growing evergreen shrubs
Choose shrubs such as boxwood, holly, azalea or juniper. These shrubs require little pruning and watering, and provide greenery all year round.
Check out more lanscaping ideas for small spaces.
Small Side Yard Ideas
6. Create a container garden
Use large pots or containers to create a container garden in your side yard. This will add greenery without taking up too much space, and can be a great way to grow herbs or vegetables and even small fruit trees and bushes.
Choose pots of varying sizes and colors, and group them together to create a visually appealing display. Make sure to choose plants that thrive in the amount of sunlight your side yard receives.
Learn how to start a container garden
7. Make a seating area
Create a small seating area in your side yard using a bistro set or a bench. This compact seating will provide a great spot to relax or enjoy a cup of coffee, without taking up too much space. You can add potted plants or hanging baskets to bring more greenery to the space and create a cozy atmosphere.
Read related: Stone garden benches
8. Plant a potager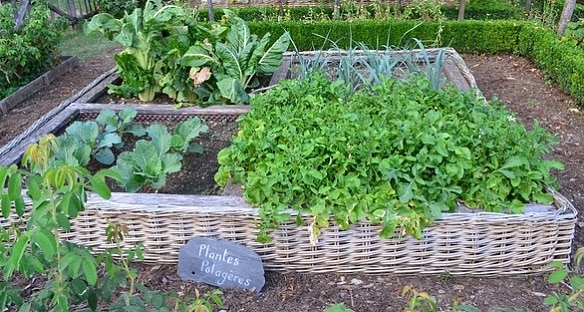 If your side yard is close to the kitchen, consider starting a potager – a kitchen garden. This will be an excellent way to grow your own herbs, vegetables, and fruits, and can provide easy access to fresh ingredients when cooking.
Choose plants that are easy to grow and maintain, such as basil, parsley, tomatoes, and strawberries. Use raised garden beds to create an organized and visually appealing display.
Get all tips on starting and growing a potager
9. Install a koi pond
If you have enough space in your side yard, consider adding a pond with koi fish. This will be a beautiful and calming addition to your outdoor space, and provide a habitat for other wildlife such as frogs and dragonflies. You can also add water lilies and other aquatic plants and install a small fountain to enhance the visual appeal of the pond.
10. Start a square foot garden
Maximize planting space with a square foot garden. This method involves dividing the raised beds into sections and planting a different crop in each square in order to prevent overcrowding and promote healthy growth of your plants.
Choose plants that are suited to the amount of sunlight your side yard receives, and consider adding trellises for climbing plants such as peas and beans.
Learn more about Square Foot Gardening
Front Side Yard Ideas
11. Add a fence or retaining wall
Consider building a fence or retaining wall to create a boundary between the front yard and the street. This not only adds privacy but also creates a sense of seclusion. You can choose from a wide range of materials like wood, vinyl, or brick to match your home's architecture. Cover the fence or wall with flowers to add instant curb appeal
12. Provide a welcoming entrance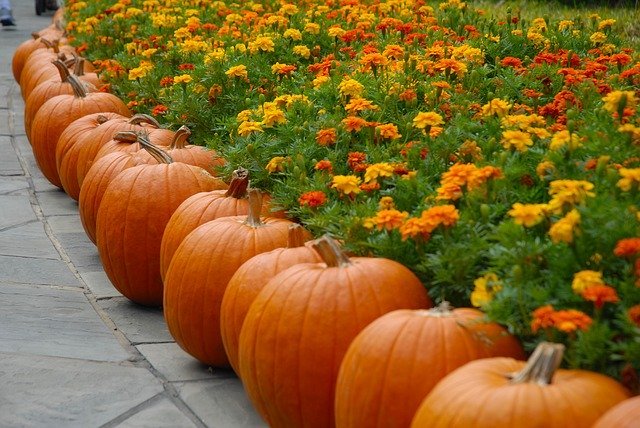 Make your side yard a beautiful and welcoming entrance to your home. You can achieve this by designing a landscaped pathway leading to your front door. Consider planting flowers and other plants that add color and fragrance to the space, and keep seasonal themed displays for holidays like Thanksgiving, Christmas, and Easter. You can also change garden flags to match the theme of the season.
Related reading: Fall decorating ideas
13. Make a four-season flower bed
Another great way to use your front side yard is to plant a flower garden. Choose the flowers that provide year-round interest:- spring bulbs for spring, perennials for summer, and mums for fall. Incorporate different colors, textures, and heights to create a dynamic and visually pleasing garden.
14. Install a fountain
Adding a water feature can transform your front side yard into a peaceful retreat. The sound of running water creates a calming atmosphere and adds visual interest to your front yard. You can also add lighting to highlight the water feature at night.
15. Create a focal point
Install a sculpture, a birdbath or a small gazebo to create a point of interest in your side yard.When choosing a focal point, consider the overall style and architecture of your home, as well as your personal taste and the surrounding
Large Side Yard Ideas
16. Build a swimming pool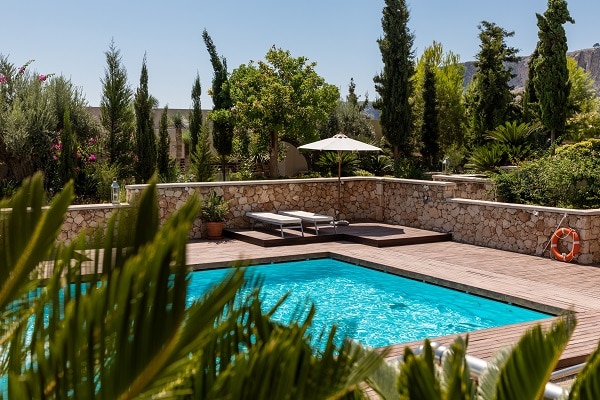 If you have enough space, consider building a swimming pool. This will provide a great way to cool off during hot summer months and add value to your property.
17. Create an outdoor living space
If you have a large side yard, consider creating an outdoor living space. This could include a seating area, pergola, an outdoor kitchen, a fire pit, and other amenities for entertaining guests and enjoying the outdoors.
18. Plant a garden or orchard
Use the large side yard to create a garden, such as a vegetable garden, an orchard, or a formal rose garden. This will provide a great opportunity to grow your own food and enjoy fresh produce, or to create a beautiful outdoor space.
Read related: Guide to gardening for beginners: 20 key steps
19. Create a sports court
If you have kids or enjoy playing sports, consider creating a sports court in your side yard. This could include a basketball court, a volleyball court, or a tennis court.
Another option to consider is adding a putting green for golf enthusiasts. This will provide a dedicated space for practicing your golf skills in the comfort of your own yard.
20. Add a structure
If you have enough space and local zoning laws permit, consider building a structure such as a guesthouse, a shed, or a workshop. This will provide additional living or working space and add value to your property.
Modern Side Yard Ideas
21. Install a living plant wall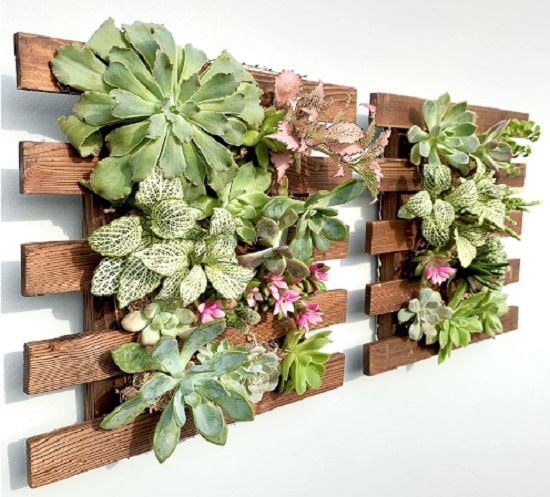 Use a living wall system or a set of planters to create a vertical garden along the side of your house. Choose plants with clean lines, such as succulents or ferns, and add geometric shapes such as hexagonal planters.
22. Create a minimalist garden
Use simple, clean lines and a limited color palette to create a minimalist garden. Choose plants with interesting textures, such as succulents or ornamental grasses, and add features such as a sleek water feature or a minimalist sculpture.
23. Use concrete or steel elements
Incorporate concrete or steel elements into your side yard design for a modern, industrial look. This could include concrete pavers, a steel trellis, or a concrete seating area.
24. Add solar lighting
Use modern lighting fixtures to highlight features of your side yard, such as a seating area or a water feature. Choose fixtures with clean lines and minimal embellishment, such as pendant lights or LED strips.
25. Create an outdoor art gallery
Hang modern artwork on the side of your house or fence to create an outdoor art gallery. Choose pieces with bold, graphic designs or minimalist compositions to complement your modern side yard design. Look for pieces that are made from materials that can withstand the elements, such as metal, stone, or glass. Avoid artwork made from paper, canvas, or other materials that are easily damaged by moisture.
Low Maintenance Side Yard Ideas
26. Install artificial turf
Instead of maintaining natural grass, you can install artificial turf which requires very little upkeep. It stays green all year round and doesn't need to be watered or mowed.
27. Use rubber mulch mats
Instead of planting grass, you can cover the ground with landscape fabric and top it with mulch mats. To add visual interest you can add potted plants as well as solar powered garden ornaments.
28. Plant low-maintenance plants
Choose evergreen shrubs that require little pruning and watering, or evergreen groundcover. You can also spruce up an area with perennials like Sedum Autumn Joy and painted daisies, which are virtually indestructible and come back year after year. For spring interest, plant daffodils, grape hyacinths, and iris bulbs as they will continue to bloom each year.
29. Add boulders
Add texture and create a visual interest to the space without the need for watering or pruning by adding boulders, rocks, and pebbles Use a weed barrier or landscape fabric under the rocks to prevent weeds.
30. Design and plant a xeriscape garden
Xeriscaping is a landscaping method that involves using plants that are well adapted to drought conditions and require little to no watering or maintenance once established.
By selecting slow-growing, drought-tolerant plants that thrive in your local climate, you can create a low maintenance garden that requires minimal upkeep, while still providing a beautiful and environmentally friendly space.
Side Yard Ideas: No Grass
31. Use recycled rubber mulch or gravel
Instead of planting grass, cover the ground with recycled rubber mulch or gravel. This will help to prevent weeds from growing and requires very little maintenance.
32. Create a rock garden
Consider creating a rock garden. This is a low maintenance and drought-resistant option that adds texture and visual interest to your yard.Choose rocks and gravel of various colors and sizes to create a natural-looking landscape
33. Install a patio
Use pavers or flagstone to create a patio in your side yard. This will provide a great spot to relax or entertain, and requires very little upkeep.
34. Make concrete walkways
Create concrete walkways edged with beds of gravel or lava rocks for an easy to maintain and stylish pathway.
35. Try a Zen garden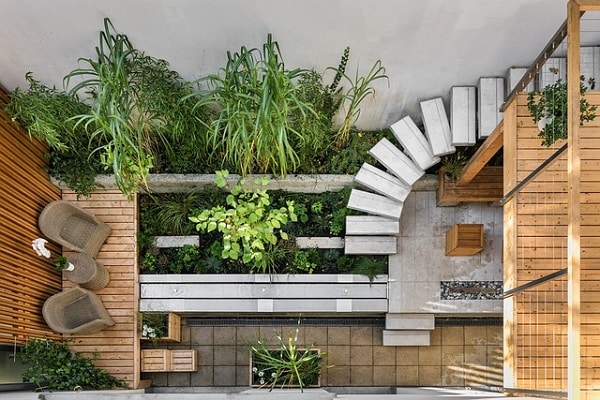 Add a peaceful and meditative element to your side yard with a Zen garden. Use sand, rocks, and small plants to create a calming and serene atmosphere.
Read related: learn about Japanese iris type for your Zen garden.
Side Yard Ideas on a Budget
36. Start a strawberry patch
If your side yard gets lots of sunlight, consider creating a strawberry patch. Strawberry plants can be purchased inexpensively in bundles from Amazon or online catalogs. The strawberries you have planted will produce runners, which will create many new plants and provide you with plenty of your own strawberry plants the following year.
37. Make a garden path from recycled materials
Use recycled materials, such as old bricks or reclaimed wood, to create a path or seating area in your side yard. This can be a great way to add visual interest without spending a lot of money.
38. Grow vegetables in buckets
Use BPA-free 10 or 5 gallon buckets from Amazon or your local Lowes or Home Depot stores (or purchase reusable grow bags) to create a DIY garden in your side yard for a steady supply of healthy seasonal veggies. Build or buy cheap trellis to extend your garden vertically.
Wonder what size grow bags to use? Learn it here.
39. Sow wildflowers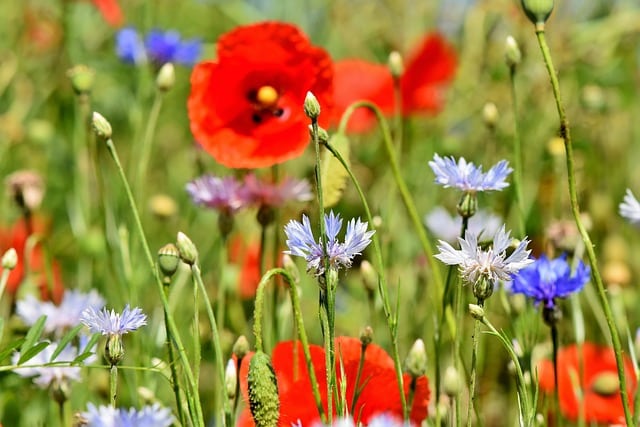 Plant easy to grow low-cost landscaping, such as wildflowers in your side yard to attract butterflies, hummingbirds and polinators to your outdoor area. This can be a great way to add color and texture without breaking the bank.
40. Plant herbs
Consider growing some herbs in small beds edged with old bricks or cinder blocks. Lay mulch or gravel on the landscaping fabric between beds to create weed-free walkways.
Herbs are easy to grow and make a welcoming addition to your dishes. Annual herbs will self-sow and return year after year in a dedicated garden bed, while perennial herbs only need to be planted once to provide a harvest year after year.
Read related:
3 best medicinal herbs for your garden
DIY side yard landscaping ideas
41. Install a pergola
A pergola is a great addition to your side yard if you're looking to create a shaded area. You can use it to grow climbing plants like ivy, wisteria or roses, which will add fragrance and beauty to your yard. It's also a great place to hang string lights or outdoor curtains.
42. Illuminate your side yard
Add landscape lighting to your side yard. This not only enhances the beauty of your yard but also provides safety and security. You can use solar-powered lights, low-voltage lighting or LED lights to create a warm and welcoming ambiance.
Learn more about the best solar lights for outdoor decor
43. Plant a privacy wall
To create appealing layers of privacy, use large plants at the back with shorter bushes at the front. Ensure that evergreen plants form the main component of your privacy wall.
44. Build a fire pit
Use inexpensive materials like gravel, bricks or pavers to build a simple fire pit, where you can gather with friends and family on cool evenings. Get step-by-step instructions for this project here).
45. Install a drip irrigation system
If you have plants or flowers in your side yard, consider installing a drip irrigation system. This will deliver water directly to the roots of the plants, reduce water waste and the need for manual watering.
Final thoughts on the side yard landscaping ideas
A side yard is often an overlooked part of a home's outdoor space, but with a little creativity and some careful planning, it can become a beautiful part of your landscape design.
Whether you have a narrow side of the house yard, a large side yard, or a small side yard, there are plenty of landscaping ideas that can help you transform it into a functional and beautiful outdoor space.
From creating a DIY garden or a seating area, to adding low-maintenance landscaping or installing outdoor lighting, the possibilities are endless!. So why not take advantage of this often forgotten space and turn it into something truly amazing? With the ideas and inspiration provided in this article, you'll be well on your way to creating a side yard that you'll love and enjoy for years to come.
Image sources: Pixabay (CC0 license)
You have read:
Practical and Creative Side Yard Ideas