25 Best Gardening Tools for Seniors (The Ultimate List)
These 25 gardening tools for seniors can make all the difference between enjoying your garden and struggling with it in your golden years.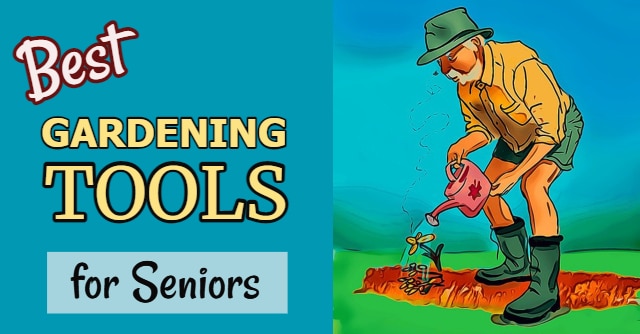 For many seniors, gardening is an activity that brings a lot of joy and relaxation. However, it can also be quite challenging as we age to do certain gardening tasks that require bending, kneeling, grabbing, reaching far, or standing for prolonged time.
The solution is simple:
Use ergonomic gardening tools designed with elderly in mind  that make it easy and comfortable to garden without straining your muscles and joints too much.
Get lightweight battery operated gardening tools or machines that will do repetitive or heavy work for you! 
I have researched the market thoroughly and gathered my top 25 recommendations for the best gardening tools, devices and garden gear for seniors that will help with the variety of gardening tasks such as digging, pruning, weeding, watering, harvesting and maintaining your garden and a small backyard.
You'll discover some cool gardening tools you never knew existed (like a solar powered weeding robot or thumb garden knife) and find exactly what you need to enjoy spending time in your garden again!
IN THIS  POST:
– How to choose right gardening tool for seniors
– What are the specific limitations of older adults and which tools can help them overcome their physical issues
– How do ergonomic gardening tools make a difference
– Best gardening tools for seniors:
for everyday gardening tasks

for pruning

for weeding

for harvesting

for watering

for maintaining small backyard
– Elevated garden beds
for gardening while standing

for gardening while sitting
– Assistive equipment for heavy lifting and moving
– Garden seats and kneelers
– Garden gear for better comfort
Final thoughts on gardening tools for seniors
 If you're looking for the best gardening tools for seniors to use, I hope this guide has provided some valuable information. With help from the listed yard and garden tools for elderly, you will be able to keep up with your passion for gardening without feeling too tired or sore after an afternoon in your backyard.
Happy gardening!
You have read:
Best adaptive gardening tools for seniors