10 Best Small Garden Tillers – 2021 Reviews
Buying a tiller for your small garden will help you to maintain it with ease.
When it comes to choosing the best small garden tiller for your small garden you have 5 options: 
Handheld tiller

Upright hand tiller with long handle, also known as twist tiller

Electric corded tiller

Electric cordless tiller

Gas tiller
In this article we'll review 10 small garden tillers: two top choices for each mentioned category. 
As a result, you'll gain enough knowledge to be able to pick the best mini tiller for your small garden.
*This post contains affiliate links. If you choose to purchase any of the products I have recommended, I may receive a commission at no cost to you. You can read my full disclosure at the bottom of the page.
Best Hand Tillers 
If your garden is tiny, a hand tiller might be all that you need, because it gives you precision where soil is disturbed, especially if you use it for weeding between  plants, or in tight places.
There are two basic hand tiller varieties on the market: handheld and upright (long handled). 
What is a garden tiller for?
A tiller is used for:
preparing garden beds for planting 

loosening compacted soil to allow water, air, and nutrients to reach plant roots

weeding

breaking up roots

mixing compost, fertilizer, peat moss, perlite, and other amendments with soil

trenching.
Length of tool: 14 inches

Weight: around 2 pounds

Oak handle with non slip grip

Head of tool is made of heat treated carbon steel for strength

Metal part is secured with a screw that goes through the metal into the wood
Pros:
comfortable grip

well made

lightweight

works great for loosening up ground, weeding, 

removing deep rooted clumps of crabgrass, 

digging up sprinkler heads, transplanting plants, d

igging trenches for edging installation,

 creating furrows, 

cutting roots. 
The downside 
Some customers reported that cultivator tines bend easily

the metal head does not fit snug and wobbles on the wood handle 

Wood handle

expands and contracts which results in the metal part getting loose on the handle even more so with time. 
A tip: fitting a couple of thin wood wedges or using a flat toothpick as a shim between handle and metal head will solve this problem.
Verdict: Flexrake  classic tiller is tough and get the job done. Great for digging, weeding, and transplanting in your small garden.
Length: 14 inches

Weight: 1.85 pounds

Double injected fiberglass handle with grip guarantees no splinters and comfort

Head of tool made of forged heavy steel

Made in Mexico
Pros:
can tear through heavy red clay-

lightweight but very sturdy and well-balanced   

good for prepping a small garden for planting, breaking up soil clumps, getting stuff out from the cracks in sidewalks and between bricks,

perfect for planting bulbs

.
The downside 
 unlike most cultivators where  tines (claws) are round and pointy, this handheld tiller has  square and flat tines. As a result, the claws are not that sharp and do not penetrate the soil deeply

wet soil and small pebbles get stuck between flat tines often, which requires frequent clearing of debris caught in between. 
Verdict: Truper Rapid Tiller is great for digging, not so much for cultivating.
What is the difference between a tiller and a cultivator?
A cultivator is generally used  to penetrate soil 3-4 inch deep. It's good for maintaining an existing garden.
A tiller penetrates soil 8-10 inches deep. It's good for digging soil deeper in the autumn after the harvest and mixing it up with compost, and in the early spring to prepare a garden bed for planting.
Twist Tillers  (Long-handled Hand Tillers)  
The benefit of upright long handled tillers is that they require no kneeling or bending over.
This kind of tiller is better suited for in ground beds and slightly raised bed gardens, or tight spaces under bushes, shrubs, fences. They are perfect for heavy soils, including clay.
The top two products in this category are Yard Butler Twist Tiller, and  Garden Weasel long handled tiller.
Length: 38 inches

Solid steel shaft 

Extra wide handle

Unbreakable six claw spikes

 No risk 30 day satisfaction guarantee
Pros:
has a foot plate that helps to drive claws deeper in the soil with less effort

well made and sturdy

breaks hard compacted soil with ease
can be used for turning compost, mixing amendments with soil, weeding, aerating.
The downside 
rubber covers slip off the handles which can be annoying
spikes might bend
some customers reported poor welding
hard to twist after prongs are driven firmly into the ground.
Verdict: Yard Butler tiller is a hand garden tiller that really works and offers exceptional quality and value for the money.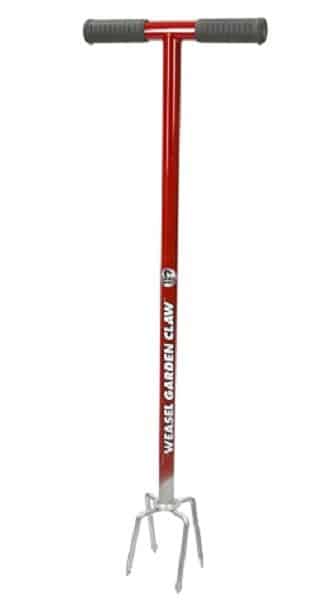 Length: 38 inches

Weight: near 2 pounds

Made from carbon steel

Four inch long spikes
Comfort grip handles
Pros:
will work with clay soil

lightweight yet sturdy

loosens soil 4-6″ deep

good for prepping small garden for planting early in spring

can be used for turning compost

perfect for hard to reach places – under shrubs, in raised beds.
The downside 
 doesn't have a foot bar

some customers report that the tool  broke due to weak welding

claws can bend after prolonged use
Verdict: Garden Weasel Claw is great for cultivating, loosening, aerating soil, and weeding your small garden.
How to use a long handled hand tiller ?
Place twist tiller in desired position

Place foot on the foot bar to push spikes deep in the ground

Grip the handle and twist 

If the soil is too compacted, rock side-to-side to loosen soil.
Gardening Tip
It's better to wait a day or two after heavy rain before using a tiller, so the soil is not waterlogged. If you till soil that is too wet, it will dry into hard to break clumps.
Electric corded mini tillers
Electric mini tillers require less effort  on your part and are great for small in ground gardens, and for weeding under shrubs.
An electric corded tiller requires no oil, gas, or regular maintenance if to compare with a gas mini tiller. It is also environmentally cleaner – no emissions. 
The advantage of mini electric corded tillers  in comparison with cordless tillers is that there is no electric battery which might run out of charge while you are working in the garden.
But pulling a long extension cord while using a tool, and watching carefully not to damage it while tilling can be a clear disadvantage of electric corded tillers. 
The top performers in the electric corded mini tiller category are Mantis 7250 00 03  and Earthwise TC70001.
10″ cutting depth

9" cutting width

motor: 9 Amp,

3-speed, 540 watts

reversible tines

weight: 21 pounds

folds for easy transport and storage

warranty 
Pros:
it can tear up the turf with ease and might be used for breaking ground for the new garden

it tills soil 10″ deep, deeper than most other brands of mini tillers

you can reverse tines and cultivate soil 2-3″deep

if you want to dig up a narrower area, you can purchase the planter/furrower tines sold separately
The downside 
push button/breaker, that shuts down power when the machine is overheated, keeps popping
tines might bend
some problems with customer service according to customers reviews
Verdict: Mantis 7250 is a robust electric mini tiller with excellent performance and can be used for breaking ground.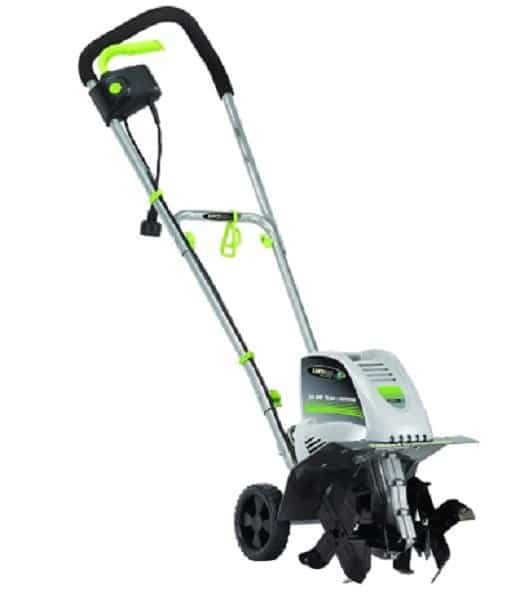 8″ cutting depth

11" cutting width

motor: 8.5 Amp

4 durable steel tines

weight: 27.4 pounds

durable lever switch

no side shield

American made

read

user manual
Pros:
sturdy and well made

easy to assemble

easy to start

easy to operate – has wheels, which makes it easy to maneuver

has ergonomic handle with safety switch and cord retention hook 

convenient to store

easy to hold lever down
The downside 
should be careful to not run over the cord

replacement tines are not readily available

some customers reported issues with transmission fluid.
Verdict: Earthwise TC70001 Tiller   provides quality performance and is great for prepping your garden for planting, and maintaining garden soil throughout the year.
Check out this YouTube video to see Earthwise TC70001 tiller performance.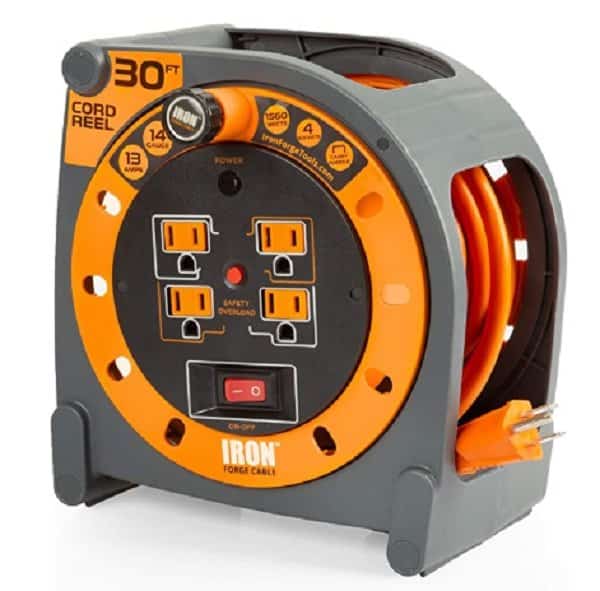 If you do not own a heavy duty extension cord at home, you will need to get one for your electric corded rototiller.
According to Askthebuilder.com, "the size of your extension cord is very important. If you undersize one you can start a fire or ruin an expensive tool."
Any 16-gauge cord between 0 and 100 feet long should adequately handle tool loads up to 10 amps.
Safety Tips
Always wear eye, ear protection, and work shoes or boots while using power tillers.
Before you start tilling , remove rocks, sticks , and pull large and thick weeds that might get tangled in tiller tines.
Electric cordless small garden tillers 
An electric cordless tiller is a clear winner for small garden maintenance. It doesn't require gas or power cord extension. It's easy on your back – no need to kneel or bend.
The only thing to keep in mind – do not expect cordless electric tillers to be able to break virgin ground, you will need tougher machines for this task.
I know that people complain about the battery running out of charge in the middle of gardening work. But you can get a spare battery and keep it charged for swapping when needed. And, usually the battery will fit to other power tools of the same manufacturer.
According to the customer's reviews the best cordless electric mini tillers are Black & Decker 20V MAX tiller and Earthwise TC70020 tiller.
 20 volt MAX lithium-ion battery

Energy Star qualified charger

lightweight: 8.1 pounds

compatible with Black & Decker 20-volt MAX line of tools

dual tines

warranty: 2 year limited
Pros:
tines don't rotate 360 degrees, they move back and forth. Counter-oscillating tines prevent weeds from tangling

takes 3 -9 hours to recharge a battery

you can cultivate near 400 square feet on one battery charge
The downside 
your hands are going to vibrate for a while after using this tool

does not work very well on hard ground. I

t won't work on previously-unworked soil

has trouble going around the roots of grass.
Verdict: Black & Decker 20V Max electric cordless tiller   is great for maintaining an already established garden. An excellent weeder.
Watch Black & Decker mini tiller in action in the YouTube video below.
20 volt 2.0Ah lithium-ion battery

fast charger Included

4 durable steel tine

flip-down rear wheels

lightweight: 9 pounds

manufacturer: American

2 year limited warranty
Pros:
battery run-time of approximately 45 minutes, depending on the soil conditions

f

lip-down rear wheels allow you to easily walk this tiller through your garden, yard, or flower bed

Cuts through the roots with ease. S

trong enough for tilling in cover crops
The downside 
 does not have a rock guard

If you're hitting rocks and roots it can grab and bounce pretty hard
Verdict: Earthwise TC70020 electric cordless tiller  is lightweight and versatile. A perfect combination of power and convenience.
Mini gas rototillers
If you need a tiller for tougher jobs, then a gas tiller is your best choice.
The drawback of gas mini tillers is required maintenance: you will need to fill them with gas (Mantis) or gas and oil (for Earthquake and Tazz tillers). 
You will need to drain gas to prepare them for winter storage.
Unpleasant fumes are another issue with this type of garden tiller. When I think of gas rototillers, the phrase "powerful, yet stinky" comes to my mind. 😊
The best models in the gas small garden tillers  category are Earthquake mini tiller and Mantis mini rototiller. You also can consider Tazz gas mini tiller/cultivator as a less costly alternative to Earthquake gas tiller.
Mantis 7949 tiller, according to a consumer representative, is able to break sod and is suitable for starting a new garden.
As a Mantis gas tiller owner, I can tell from my experience that it will not be an easy task, especially if you are a slender woman-gardener. It will be hard to control this "bouncy beast" when you are breaking virgin ground. 
cutting width:

10" for tilling and 6" width for cultivating

cutting depth: 6-8 inches

33cc 2-cycle Viper engine 

gear drive transmission 

height adjustable wheels 

5 year warranty

US based support

available in wheeled and non wheeled versions 
Pros:
height adjustable wheels allow for depth control

tines are removable, offering a larger 10" width for tilling and smaller 6" width for cultivating

forward and backward operation makes it easy to maneuver between established plants

wheeled version provides ease of operation which makes this tiller suitable for female gardeners
Cons
need to mix oil and gas  requires more  time for maintenance
need to drain fuel tank to store the tiller for winter
not good for breaking sod for establishing garden
difficult to start
tine replacements are very expensive
Verdict: Earthquake gas mini tiller, especially wheeled model, offers ease of operation, but for starting a new garden, look for another option in the gas mini tillers category.
cutting width:

9"

cutting depth:10 inches

weight: 24 pounds

 

25 cc 4-cycle engine powered by Honda

gas only, no fuel mix required

folding handlebars

variable speed

made in USA

2 year warranty
Pros:
will

till through sod 

no need to mix oil with fuel

reversible tines can be used to till down 10 inches deep

turning tines around will let you shallow cultivate the top 2 to 3 inches of soil

finger controlled throttle

solid worm-gear transmission

motor is fairly quiet

has a kickstand that provides easy refueling
The downside 
no wheels make it hard to operate, especially for women

it bounces a lot, which is a problem if you cultivate close to plants

uses a lot of gas in comparison with Earthquake gas tiller

tines jam easily on shallow roots
Verdict: Mantis gas mini tiller is the best option on the market for a small tiller that will till deeply and can break virgin ground.
Want to see how Mantis 7940 4 cycle tiller/cultivator works? Watch this YouTube video made by GardenTech.
Final thoughts on the best small garden tiller
A garden tiller is a handy tool for every gardener to own to be able to cultivate, loosen, aerate, and weed the garden soil.
So, what's the best small tiller for the money? Which one should you get?
It depends on the size of your small garden. 
For a container or flower bed a hand tiller may be all you need. Hand tillers cost less, but require more muscle power on your part.
Electric and gas mini tillers, though more costly, will save your time and effort.
Remember that most small garden tillers on the market are suitable for light garden/yard work. Only gas powered and electric corded Mantis tillers are able to till grass (which should be mowed before tilling) and are suitable for starting a new garden.
Another option for starting a garden will be to kill weeds and grass by covering the soil with heavy dark plastic or cardboard for a month, and then use any of the electric or gas tillers to break the soil.
If you found this article useful – be so kind to share with friends.
You have read:
Best mini tillers for small garden