Last Updated on August 18, 2022
Dyeing eggs with onion skins is an easy way to dye Easter eggs naturally. Just follow simple step-by-step instructions to get consistent results.
I have been using this easy method of dyeing Easter eggs with onion skins for years. First I was doing it with my mom, then – with my child, and now you can share this activity with your kids or grand kids. The whole process will take about 1 hour. Have fun!
| | |
| --- | --- |
| Amount of eggs | 6 |
| Ready In: | 1 hour |
| Good For: | Easter Dinner, fun with kids |
*This post contains affiliate links. If you choose to purchase any of the products I have recommended, I may receive a commission at no cost to you. You can read my full disclosure at the bottom of the page.
Materials needed:
6 white shell raw eggs
yellow onion dry skins (1.5 ounces)
pot with water
If you want to decorate eggs get additionally:
cotton twine, thread, or ribbon
cheesecloth or meat netting roll
parsley leaves, dill, or any edible plant small leaves ( like sorrel, arugula, nasturtium flower)
dry rice grains
If you want to get the eggs to look shiny after dyeing:
a little bit of coconut or olive oil
Dry onion skins (start to collect them a month before Easter or you will end up with lots of peeled onion for onion soup ). In the pictured pot there is 40 gram (1.5 ounce) of onion skins.
Materials for decoration: all cotton twine and meat netting, rice grains, and parsley leaves.
Step by Step Instructions
Pour water over onion skins, bring to a boil, and let it simmer for 15 minutes.
Kill the heat and let the water with the skins in it cool off for the next 20 minutes.
Meanwhile, get the white shell raw eggs out of the fridge. If you want the eggs just to be golden orange – leave them on the counter to warm up a bit to prevent cracking.
If you want to let your creative juices run – let's decorate those babies!
Wet the egg with water and place parsley leaves on it. Then wrap with meat netting or cheesecloth.
Wet the egg with water and roll into the rice grains. Then wrap with meat netting or cheesecloth.
All wrapped up and ready to go into the pot.
4. After onion skin brew cooled off, you have two choices: discard the skins and cook eggs just in onion dye or leave skins in the pot during egg cooking.
I like to leave the skins in the pot and place the eggs on the top of the skins to prevent them from cracking and to give the eggs a nice "marble" effect.
This is how the onion skins dye looks with skins taken out.
Ready to dye (with the onion skins left in the pot).
5. Place eggs in the onion skins dye, bring to a boil and cook them as usual – for 12 minutes for perfect hard-boiled eggs.
6. After the eggs are cooked, drain onion skin dye and pour cold water over the eggs to cool them off.
7. If the eggs were tied with threads for decoration, wrapped in cheesecloth or meat netting – it is time to carefully cut and discard the wrapping material and reveal your masterpiece.
8. If you want the egg shells to shine – rub them with a little coconut or olive oil.
You are done!
I also like that when dyeing eggs using this method – the dye will not bleed on the egg whites.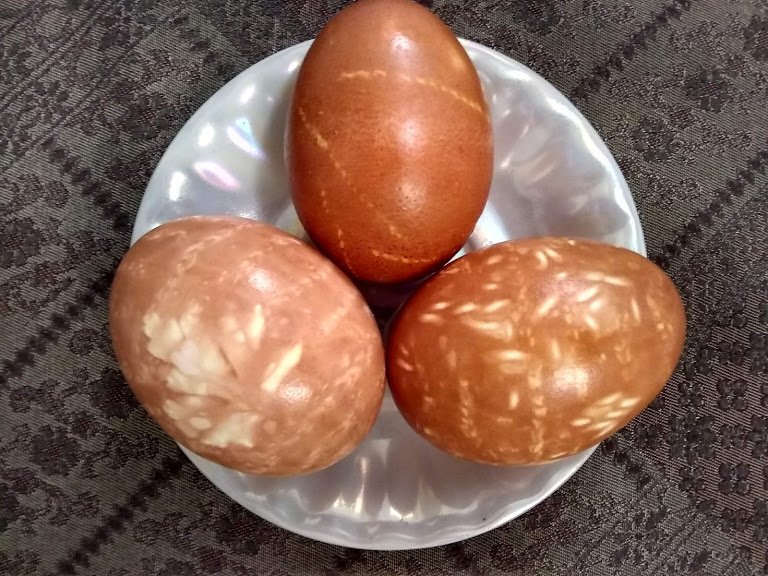 Natural Egg Dye Kit
If you are short on time, want eggs of different colors, do not have onion skins, but still wish to dye Easter eggs with safe, natural ingredients, there are some products on the market that will help you to achieve marvelous results.
1) Earth Paint natural egg dye kit
This made-in U.S.A. kit contains four GMO- free plant-based dyes: grape, orange, blue and green. In order to dye eggs, you will need to dissolve dye in hot water and let hard-boiled eggs soak in it for 10-20 minutes. Pretty easy!
2) For dyeing eggs with food coloring, use McCormick Color From Nature. This kit contains three resealable pouches of dry dye derived from plants and seeds: berry, sunflower, and sky blue. You can mix these dyes to create additional mint, lavender, and pumpkin colors. The great thing about this kit is that you can also use this food coloring to make frosting and icing, colored decorating sugars, and drinks with no artificial ingredients.
To get ideas on what Easter dishes you can make with your dyed eggs, read the recipes:
Do you need inspiration for Easter decoration?
Get more nature-inspired decorating ideas.
Final thoughts on dyeing eggs with onion skins
To dye eggs naturally in a golden orange color use my foolproof and easy "dyeing eggs with onion skins" recipe. Unleash your creativity by making patterns on eggs with rice, ribbons, threads, and leaves.
Do you know alternative ways to dye Easter eggs naturally? Share in the comments.
And if you found this article useful – be so kind as to share it with friends.