Last Updated on October 12, 2023
Explore the top-rated retractable hose reels on the market. We'll provide you with retractable hose reels reviews to help you find the perfect one for your gardening and watering needs.
Key Takeaway: If you're looking for a retractable hose reel for garden and yard maintenance, the European-made Gardena auto rewind garden hose reel is the one you need! It unrolls effortlessly, retracts quickly with a gentle pull, is frost and leak-proof, and never kinks.
✅The Best Retractable Hose Reel
safe auto retraction
100% leakproof
mounts to the wall and swivels 180°
easily removable and transportable
UV and frostproof
available in different sizes (50 ft, 66 ft, 82 ft, 100ft, 115 ft) and in 2 colors (turquoise and gray)
2 styles are available: spike-mounted and wall-mounted reel
hose, wall bracket, all connections, and fittings are included
integrated hose guide prevents hose tangling
2-year warranty
made in Europe
*This post contains affiliate links. If you choose to purchase any of the products I have recommended, I may receive a commission at no cost to you.
Let's get started!
Why do you need a retractable garden hose reel?
Winding your hose on the reel manually is time-consuming, tiresome and oftentimes frustrating: bending and cranking your hose during summer heat, dirty hands and scuffed skin on the palms from guiding it, rewinding it again because the hose got unraveled while you were taking care of a kink… Believe me, I feel ya, been there done that! 😊
I know, it's possible to take the lazy way and let your hose just lay on the ground till next watering, but it's a tripping hazard! Also, the hose gets ruined on the sun faster, water in it gets hot in summer and can burn your plants if you are not careful, and just admit it – the hose laying around the yard looks plain ugly.
So, what's the solution?
It's a retractable garden hose reel (also known as automatic hose reel, self retracting hose reel, auto rewind hose reel, auto wind hose reel, or just auto garden hose reel).
The benefits of owning an auto retractable hose reel
In addition to convenience and ease of use, an auto rewind hose reel
ensures frustration free operation of the hose
saves your time, your back, and your hands
extends your hose longevity
eliminates the tripping hazard
makes your hose easy to transport (around your yard and garden or far away distance)
requires no maintenance.
A retractable garden hose reel: what are your options?
When you are searching for an auto hose reel that can rewind your hose as if by magic😊, pretty much you have 3 options.
1) Auto rewind, spring-driven retractable hose reel
With this system, as you pull the hose from the reel, the spring in the cassette gets wound tightly. When you let the hose go, the spring unwinds and pulls the hose to the reel. Essentially, it winds the hose by the action of the spring.
Also, these reels usually have a locking ratchet that allows you to pull out the hose to desired length and lock it in place. To release the lock, just give your hose a pull and the reel starts to retract the hose.
👍 Pros:
because this kind of reel doesn't require a power source, you can use it anywhere you want
less expensive than other kinds of hose reels
👎 Cons
using a spring wound retractable hose reel might be difficult for people with weak hands: the more you pull on the hose to extend it, the tighter the spring winds, so you will need significant strength to extend the hose to its full length.
Verdict: spring driven hose reel works the best with shorter hoses. It's not the best solution for seniors or people with weak hands.
2) Battery operated retractable garden hose reel
This kind of retractable hose reel removes the struggle from using and winding your hose. That is why it's the best auto garden hose reel you can get to make your life easy and keep your yard neat.
👍 Pros
The hose pulls out with no resistance and reels back in fast with the push of a button or by pressing a foot pedal.
It's a great choice for all homeowners, and especially beneficial for seniors, people with arthritis, or slender women.
👎 Cons
Expensive (yet worth every penny!😊)
Very often out of stock.
View more info about the battery operated hose reel in 25 Best Gardening Tools for Seniors.
3) Motor driven hose reel
Gear driven motor hose reels are robust and capable and better suited for commercial applications.
Unless you need 500 feet of hose on the reel, you probably should skip this option.
On the other hand, if you have a garden in the corner of your 3 acre property, it might be a viable watering solution (I guess it's cheaper than installing an irrigation system).
Just in case you are curious, this link will take you to Amazon, where you can view, explore, or purchase a motorized hose reel.
👍 Pros:
can hold 500 feet of hose
industrial strenth
great for commercial use
great for a large property owners
👎 Cons:
needs a source of power close by
expensive.
What is the best retractable garden hose reel?
the best retractable hose reel for homeowners and gardeners.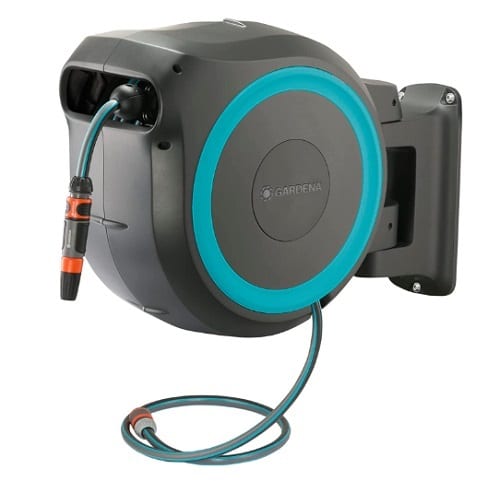 made of polypropylene
comes with a 1/2″ diameter hose, a 6.5-foot connecting hose, and a spray nozzle
available in different sizes: 50 ft, 66 ft, 82 ft, 100ft, 115 ft
available in 2 colors: turquoise and gray
2 styles available: spike mounted and wall mounted reel
wall bracket, wall plugs, screws are all included
spring driven wind up
can be easily removed for storage or transportation
weight: 20 pounds
made in Europe, German brand
warranty: 5 years
The advantages:
with a light pull, the hose is automatically and evenly rolled up
safe, slow and even retraction
can be mounted on a wall, or post, swings 180° and can be pressed flat to the wall
integrated hose guide prevents kinks and tangling
well made, heavy duty reel
hose is light and thin, but delivers high water flow rate for efficient watering
no leaks
UV and frost proof, but is still a good idea to store the unit in the garage during winter
easily removable and transportable
no spill technology
The downside
Verdict. If you are looking for a retractable hose reel, Gardena auto rewind garden hose reel is the one you want! Unrolls easily, retracts quickly with a light pull, never kinks. Great for yard and garden maintenance, especially beneficial for seniors because of ease of use.
130 FT, best quality, great for larger gardens and yards
130 foot 1/2 inch diameter hose: 124ft hose + 6ft lead hose
9 adjustable hose nozzle spray
mounts to the wall or post
swivels 180 degrees
can be press against the wall when not in use
automatic hose guide
CE , VDE , GS and UL certified
material: polypropylene
weight: 30.1 pounds
2 year warranty
Pros:
any lenght lock, slow return system for safety
ho kinking
leak resistant
this hose passed the 200PSI pressure test and the 600PSI bursting pressure test
easy to install, all mounting hardware included
can be easily removed from the wall for storage : the reel can be easily disconnected from the bracket by lifting the handle upwards
strong and durable
great customer service
Cons:
5% of reviews of this hose are negative
restricted water flow, weak water pressure
rusty parts after 1 year of use outdoors
included sprayer fail after time (by the way, you can change sprayer that comes with this hose if you do not like it).
Verdict: Giraffe Tool's retractable hose reel delivers convenience without much strain on your budget. It's a great choice for homeowners with a larger size yard.
* Giraffe Tools retractable hoses come in many sizes: 65 ft, 78 ft, 90 ft, 100 ft, 130 ft, 178 ft.
100FT, great budget option
hose is made of new polymer material
solid brass connector
wall mounted
180° Rotation
includes 100 ft hose+ 6.7 ft lead hose
comes with 8 pattern spray nozzle
350 PSI water pressure
double lock desigh makes hose easy to teplace
weight: 33 pounds
1 year warranty
Pros:
hose in this reel is easily replaceable
reels up smoothly (it takes 12-15 seconds to retract the 100FT hose back after a gentle tug,)
pulls out easily
durable
easy to remove and store away when necessary
great customer service.
The downside
some customers complained that it's hard to install, especially if you mount it to the post instead of a wall.
Verdict: FIILPOW retractable Hose reel will make your watering chores easy and convenient.
*If you prefer to shop on Walmart, it sells this hose, in my opinion, under Tacklife brand.
** Watch the video on how to install and operate Tacklife automatic hose reel at manufacturer's website.
What to Consider When Choosing the Best Retractable Hose Reel?
When choosing the best retractable garden hose reel for your yard and garden chores, you should take into consideration
It's best if the hose reel is made from weather-resistant UV stabilized material, like polypropylene plastic, to insure its durability.
Check if the reel box can withstand extreme heat and frost. For example, Gardena battery operated auto rewind reel is frost proof, but still recommended to be stored in the garage in winter time.
You'll also want a well-designed hose reel that delivers smooth operations. Ideally, you choose a hose reel that can swivel in the direction you are pulling your hose, and can be pressed to the wall flat after use for a neat and unobtrusive view.
You'll want to use the same hose reel for multiple purposes. Whether it be gardening, cleaning the car or pool, or washing your dog – you may want some portability and flexibility to move your hose around.
Pick a hose reel that is easily detachable from the wall or post and allows you to move it around to the closest water source.
The hose length must also be considered as you must ensure that the hose reaches out to every single corner of your backyard. This is because a shorter hose would require various attachments, thus your reel may not be big enough to accommodate it.
Unfortunately, all hose reels come with their own hoses. You cannot install your own hose, because the reel is pre-fitted with a hose designed for use with the retractable mechanism.
It can be a significant drawback if you are an organic gardener and want to be sure that the hose you use is made from non toxic material and is drinking water safe.
More on safe drinking water hose:
Related reading on yard and garden tools:
Final thoughts on auto retractable hose reels
Still wondering what the best hose reel to buy is?
If you're in the market for an automatic hose reel, the GARDENA Retractable Hose Reel offers industrial strength, making it suitable for both homeowners and landscape designers. It's the best self-winding garden hose you can buy, built to last indefinitely. The Gardena autowind hose reel is durable and versatile, serving not only for garden watering but also for various tasks around your yard, garage, or pool.
Giraffe Tools heavy-duty automatic hose reels are also excellent options, as they come in various sizes to match your specific needs.
For those on a budget, the Fiilpow autorewind garden hose reel is a great choice, and it even allows you to replace the hose if necessary.
And don't forget, a retractable hose reel makes a practical and thoughtful gift for your aging parents.
You have read:
Best retractable garden hose reels reviews