Last Updated on June 17, 2023
Does your mother love to garden? Then getting her a gardening gift for Mother's Day or any special occasion is a no brainer.
Better yet, give her a practical gift for her garden – one that she will actually use and enjoy.
And the best part is that if she gardens often, she is going to use your gift a lot, and each time she uses, (looks at, wears) your present it will bring a smile to her face, because that gift will remind your mom of you – her most cherished flower!
*This post contains affiliate links. If you choose to purchase any of the products I have recommended, I may receive a commission at no cost to you.
Below are 11 best gardening gift ideas for moms that like to garden.
by Flora Guard
Practical yet beautiful gardening tool set with floral pattern. The tools (trowel, cultivator and pruning shears) are rust-proof, sturdy and easy to clean. It comes in 3 color choices. I love the purple one. What's your favorite?
Read related:
by Sow Small Garden
It's a garden design workbook, gardening planner, planting and harvesting log, seasonal to-do scheduler, weekly gardening task organizer, gardening notebook, journal and sketchbook – all in one!
Your mom will be grateful for this gift because it will make it easier for her to plan and keep track of her gardening chores.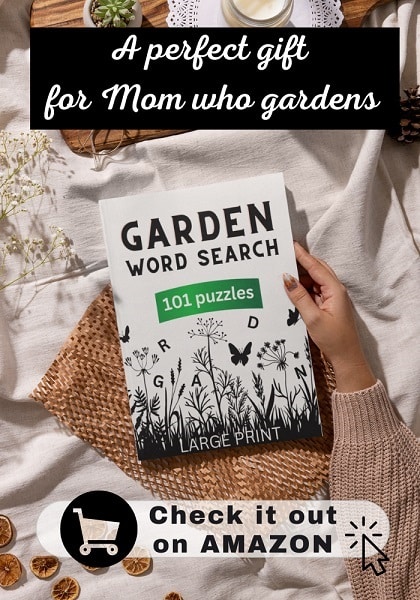 by Banberry Designs
Specially made as a gift for mom and uniquely designed with real flowers pressed between butterfly glass wings. This suncatcher features hanging heart charm with "MOM" engraved on it.
You also can buy a kit – suncatcher butterfly and a glass heart tealight holder with a poem on it . Click through to see which option you like best.
by Sloggers
Keep your mom's tootsies cozy and dry in a pair of best waterproof garden shoes– Sloggers garden shoes.
Do you know that Sloggers are America's #1 Backdoor Shoe? They are very comfy due to Sloggers' exclusive "All-Day-Comfort" insole, made in USA and you can choose among 24 fun prints.
That "flower power" print – is a gardening mama's dream!
And if you can grab them under $30 – it's a great bargain.
by Umbra
This unique and innovative design was the winner of the International Housewares Show and got the "Best of Show" award. And now your mom can decorate her window with this beauty! (if you buy it for her!)
Triflora hanging planter for window cleverly combines a drapery rod which can be mounted from the wall or ceiling with 3 plant pots hanging from ropes. Ropes can slide horizontally and vertically in order to change the placement of the plant pots and achieve a customized look.
With this kit your mom can create her own indoor herb garden or succulent garden with ease. All she needs to do is to buy herbs in standard 3" containers and place them directly in provided pots – no repotting required!
by Sharon Lovejoy
Is your mom into organic gardening? Then the book Trowel and Error by Sharon Lovejoy (who also wrote Roots, Shoots, Buckets & Boots: Gardening Together with Children) is a must-have on your list. It features over 700 organic remedies, shortcuts and tips for easy and practical solutions for organic gardeners and for sure will satisfy your mom's "geeky" side.
by Super Deal
This foldable smartly designed 2-in-1 kneeler/seat for the gardener will surely be handy in the garden to protect your mom's knees or just to sit and rest for a while enjoying her garden and thinking of you – the person who presented her with this great, practical, and thoughtful gift.
Read related: Best garden kneeling pads
by Garden Lady of Sow Small Garden
A cool T-shirt with witty writing on it is never out of fashion. Don't you think?
But it gets better! This perfectly fitted Ms. Fancy Plants T-shirt is very feminine and elegant (I know, it sounds weird to call a T-shirt "elegant", but just look at it – it is true!)
If you'd like to see more T-shirts designs for Mom and Grandma that loves to garden then visit the Garden Lady's shop that offers a great selection of garden-themed merchandise or head directly to Redbubble and check out Gardening Women and Funny Gardener collections.
by Plant Theatre
Is your Mom an adventurous lady that likes to try new things?
Then for Mother's Day gift her with the Plant Theatre Grow Kit that comes with unusual colorful vegetables to make a festive salad: yellow lemon cucumber, red lettuce, golden beet, red bunching onions and a purple bulb onion, and also fiesta radishes with white,red, purple and golden skins.
The kit includes 5 peat growing biodegradable pots and discs, 5 foil sealed seed packages, 5 plant markers, and tips on sowing and growing these weird veggies. Seeds are from the U.S.A, non-GMO and lab tested for great performance.
Your mom can experiment indoors with new herbs, greenery, and flowers if you give her an Aerogarden as a gift.
Read my article on the best Aerogarden models on the market.
by Famoy
A gardener always needs a pair of good gloves to protect hands while gardening and weeding, and these gloves are a game changer!
They are not your ordinary gloves – they have claws for digging and planting. Finally your mom will be able to compete with her cat by digging soil in the garden with claws. Imagine that expression on the cat's face.
Priceless!
P.S.Though the item is very highly rated by a lot of customers, some people reported that latex odor was strong. So, if your mom is sensitive to smell, probably skip it.
by Hallmark Flowers
If your mom likes to garden indoors – the Money Tree (live plant) by Hallmark Flowers will make a great Mother's Day gift for her.
The Money tree is 15″ to 18″ tall and comes in a stylish white and teal ceramic planter. It will be shipped in a decorative Hallmark Flowers gift box carefully packaged for safe delivery. It also comes with a card to give with the gift.
And the best part is that a Money Tree attracts wealth to its owner and represents prosperity and good luck. And we all wish our moms prosperity, don't we? It will bring your mom good luck just because it is a gift from you!
Alternatively, you can get many other live indoor houseplants from Amazon. To learn more, check out these articles:
Final thoughts on the best gardening gifts for mom
There you have it – the 11 best practical gardening gifts for Mother's Day.
I would be happy to get any of them.
What about you?
I hope you found a beautiful and memorable yet practical gardening gift for your mom to celebrate Mother's Day. Let's wish that she finds joy and happiness in her garden of life.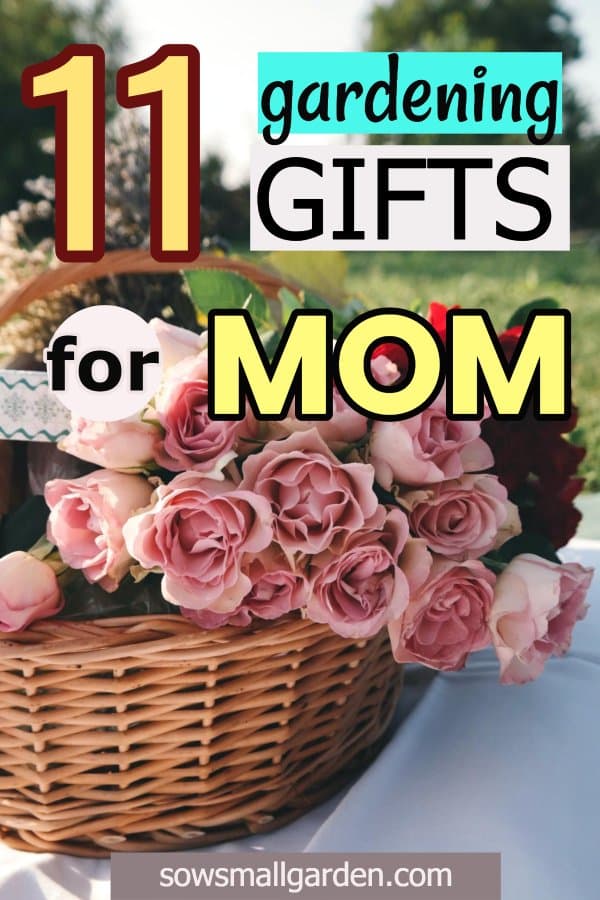 Pin for later reference!
Need more gardening gift ideas?
Read related:
Make for Mother's Day:
What garden gift would you like to get for Mother's Day?
Share in the comments.
And if you found this article useful – be so kind to share with friends.
You have read:
Best Gardening Gifts for Women who Garden