Last Updated on February 9, 2023
If you grow your own food, a non-toxic garden hose is a must have.
IN THIS POST
Truly non toxic garden hose (according to studies)
Non-toxic soaker hose
Safe stainless steel hose
Non-toxic garden hose nozzle
One of the reasons people are gardening is to be able to grow chemical free produce.
And it seems quite an achievable task: buy organic seeds, plant them in healthy soil, fertilize with organic fertilizer, do not use conventional herbicides and pesticides, and here you have your tasty toxic free organic crop.
Or do you?
Oftentimes, one step gets easily overlooked.
As gardeners, we need to water our plants. Without much thinking, we are using hoses that are full of toxins for watering our garden. And by using them we contaminate plants that are meant to be eaten, and contaminate the soil in which the plants grow.
For busy folks who are pressed for time:
✅ This specific garden hose is truly non toxic, lead free, and drinking water safe according to tests.
This post contains affiliate links. If you choose to purchase any of the products I have recommended, I may receive a commission at no cost to you.
The truth about your garden hose
A lot of people think that when they buy a gardening hose from Lowe's or Home Depot – it should be safe for watering plants. (Especially if it has writing on it "safe for drinking"). It can't have toxic chemicals, the governmental agencies will not allow harmful toxins to come in contact with the food supply, right?
The answer is – wrong.
Walk into Home Depot, Lowe's, Walmart, Target today and take a look at garden hoses.
Unfortunately, the Proposition 65 State of California warning label on them – "this product contains a chemical known to the State of California to cause cancer and birth defects and other reproductive harm" – glares right in your eye with an unpleasant truth.
Garden hose safety tips
Keep your hoses in a shaded area, since heat of the sun increases leaching of toxins into water
Before using hose let the water run for at least 10 seconds, because the water that has been sitting in the hose has the highest level of chemicals
Always let water run until it cools off in summer time in order not to kill plants with hot water
When you turn the water on (especially If you didn't use hose for a while), point the hose away from the face in order not to inhale accidentally legionella bacteria that can grow inside a hose
Garden hose study
In June 2016 ecocenter.org conducted a garden hose study.
32 hoses were tested, including hoses marked as safe for drinking. 24 of the tested hoses were made of PVC.
The test results were quite gloomy.
PVC hoses were the worst offenders. 75% of them contained phthalates (plasticizers). Lead, as well as bromine (associated with flame retardant), tin, cadmium, antimony were found in PVC and metal fittings of the garden hoses, The tests showed presence of the recycled PVC from electronic waste. The worst thing is that BPA and lead were found to leach into water from PVC hoses.
The study concluded that hoses labeled as "drinking water safe" were safer but still contained phthalates. Yet lead, antimony, tin, bromine were low or undetectable in the flexible hose layer (excluding fittings).
The tested Parker synthetic rubber hose showed high amounts of chlorine and lead.
Hoses made of polyurethane were among the safest ones, though some of them still had chlorine or lead in fittings.
The best non-toxic garden hose
Only two hoses among tested ones – Big Boss AquaStream Ultra Light Garden Hose and Water Right Professional Coil Garden Hose (both were bought for the tests from Amazon) – did not contain toxic elements.
I was not able to find Big Boss AquaStream hose on Amazon today. I saw only Big Boss expandable garden hose that was discontinued by the manufacturer and had some bad reviews due to lack of hose quality.
Yet the Water Right Professional Coil Garden Hose is available for purchase and seems the only choice if you want a truly safe drinking water hose to insure a non toxic supply of water for your soil and your edible plants. (Disclosure – I do not have affiliation with Water Right brand)
The reasons to get Water Right hose:
100 % lead free
BPA free
Made from UV stabilized FDA and NSF grade polyurethane
You can choose stainless steel or chrome plated lead free brass fittings option
can be used with hot water
Made in the U.S.A.
Test conducted in 2016 showed that it is a truly non-toxic hose
I personally have owned four Water Right hoses (not coiled version) for at least 8 years. I absolutely love them. The only problem I have – they are hard to coil on the hose reel due to their relative stiffness, however this also makes them more resistant to kinking when they are pulled around the yard.
Non toxic soaker hose
In addition to making a toxin free garden hose, the Water Right company also manufactures a non-toxic soaker hose.
This well made soaker hose will not only keep your plants happy and hydrated during the hot summer months, but also won't poison your garden. Moreover, the Water Right soaker hose will not blemish your landscape because of its earthy color so that you won't even notice it in the garden.
Advantages of the Water Right soaker hose
made of FDA and NSF grade polyurethane
drinking water safe
lead-free, BPA-free, phthalate-free
will not kink
will not crack over time
flexible even in freezing temperatures
lead free chrome plated brass fitting will not tarnish
specially engineered strain reliefs on both hose ends
blends well with the environment
made in the U.S.A
5 year warranty
The reviewers of the Water right soaker hose report that water distribution is very consistent: same flow of water at the end as at the beginning. It slowly drips water in the most effective way to keep plants supplied with moisture without wasting water.
Overall, the hose is premium quality, safe, and worth the money. If you want to make your organic garden truly organic and thriving during dry weather, get the Water Right soaker hose.
What about stainless steel garden hoses?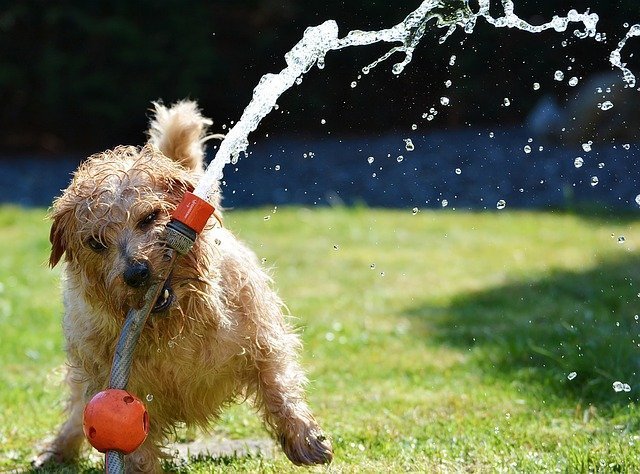 Are metal garden hoses safe?
I got an inquiry from a reader. He was wondering if stainless steel hoses are non-toxic.
The reader rightfully pointed out that manufacturers usually do not tell you what steel garden hoses are lined with and asked if I can suggest a stainless steel garden hose with lead-safe linings, such as polyurethane.
When I took a look at stainless steel garden hoses offered on Amazon, a hose made by Touch Rich caught my attention.
Its description stated that the outer shell of the hose is made of 304 stainless steel (16 gauge,3/8" ID,5/9" OD), and the inner hose is lead, BPA, phthalates free, and drinking water safe.
This hose is made in China.
An Amazon reviewer that owns this hose wrote,"The inside of the steel hose is a white rubber tube. I have not noticed any smells from the hose. We used the hose in the middle of summer and we had no smell".
The thing that I am not sure of is the fittings on this hose: whether they are brass or aluminum. There are mixed answers about it. But the last person that got this hose in April 2020 wrote "The 50′ hose I received 3/20 does have heavy duty BRASS fittings."
There is no testing or study that I can find on this hose. The manufacturer claims that this stainless steel hose is safe for drinking water, BPA free, lead free, phthalates free. Would you trust the manufacturer? It is up to you to decide.
Non toxic garden hose nozzle
So, you got a non toxic garden hose, now how about a drinking water safe hose nozzle?
Turns out, locating a lead free garden hose nozzle that works well and lasts more than one season out in the weather, can be a real challenge.
Finding a non-toxic hose nozzle that was tested for toxins by an independent lab – is mission impossible. Pretty much you'll need to trust the manufacturer's claim.
At this time (late summer 2022) your best option for a non toxic hose nozzle is a solid brass adjustable water sprayer made by World's Best Brass Hose Nozzle.
Pros
99.9% lead free
Leak free
Lifetime warranty
Works well
Heavy duty
Cons
Not 100% lead free
Manufactured in China
Alternatively, you can get a Bon-Aire HN-10C hose nozzle made of stainless steel. I need to warn you though that there is just a 1-year warranty on this nozzle and it's quite expensive.
Unfortunately, I wasn't able to locate a non toxic watering wand.
Watering tip
If your garden is small and you do not have much watering to do, instead of using a hose nozzle – you can place your thumb over the hose end to adjust water flow.
Related reading:
Learn more about
Final thoughts on non-toxic garden hoses
If you grow your own food – get a toxic free hose. Stay away from hoses made from PVC and synthetic rubber. Your best bet is to choose a drinking water safe garden hose made of FDA and NSF grade polyurethane and with lead free fittings, such as Water Right hose.
Which non toxic garden hose brand do you use? Share in the comments!
And if you found this article useful – be so kind to share with friends.
Pin for later reference!
You have read:
Chemical free garden hose