Last Updated on August 20, 2023
An electric weed burner/torch is best suited for small areas: like removing weeds from sidewalks, driveways, between pavers, and scattered out small patches of weeds.
This tool is not a good solution for large areas covered with weeds, though. If you need to remove weeds in large area, use a propane weed burner.
Have you heard of an electric weed burner?
I need to confess, not long time ago I wasn't aware of this innovative tool.
As far as weeds go, I tried everything available on the market in order to control them (except commercial toxic weed killers, of course 👧).
And I was unsuccessful in finding a perfect solution.
That's until I learned that there is an effective weed fighting product made for gardeners on the market now – an electric weed burner.
This tool is also known as an electric weed torch. Some people might call it electric weed killer, thermal weeding stick, or electric weeder.
*This post contains affiliate links. If you choose to purchase any of the products I have recommended, I may receive a commission at no cost to you.
The benefits of an electric weed burner
The benefits of this tool are numerous.
In my opinion, an electric weed burner stands out among existing weed control products on the market because it's
safe for the environment – no toxic chemicals to poison your garden soil and plants
safer for people to operate – does not produce stinky fumes or open flame during operation like propane weed burners do
easy to use and saves gardener's back – no need to bend for weeding
lightweight and ergonomic
cost effective in comparison with propane weed torches, because there is no need for propane refill
no risk of damaging surrounding plants – cone nozzle allows killing weeds selectively
works on any size of weeds
kills weeds without disturbing the soil
extreme temperature destroys weed seeds that fall on the soil
can be used to melt ice on steps or driveway in winter time.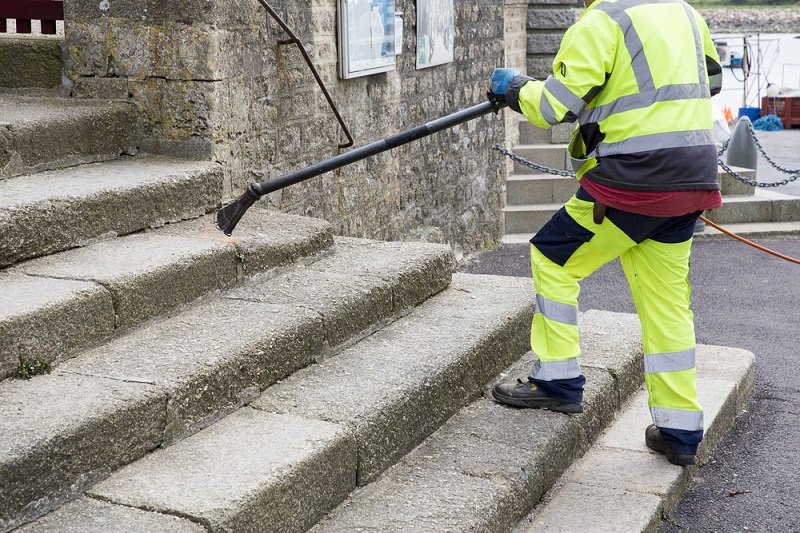 Man burns weeds with a torch.
The drawbacks of an electric weed torch
there are no cordless electric weed burners on the market, only corded ones (if the situation changes, I will update the information)
you cannot use it on dry grass or during long periods of dry and hot weather, because of fire risk
you most likely will need to purchase outdoor rated extension cord, because the tool's cord is short
large leafy weeds will need repeated application
this equipment is better suited for small areas. For large weeded areas better use propane flame thrower.
there is the risk of burn marks on the paved surface if you are using the tool too close to the pavers or concrete.
Another way to control weeds without use of toxic chemicals is by tilling.
If you are interested in this method, read my article about the best small garden tillers.
Electric weed burner versus propane weed burner
As for me, an electric torch is the clear winner.
First of all, if you own this torch, there is no need to ride to a hardware store or supermarket to exchange heavy propane tanks.
Also, the common complaints about propane weed burners are about propane leaks, inability of propane weed burners to hold pressure, and difficulties with connection to the standard propane tank. With electric weed burners these problems are nonexistent.
Unlike propane weed torches, an electric weed burner stick doesn't produce loud noise.
An electric tool is much safer than a propane one, because it doesn't produce open flame.
And finally, after burning weeds with an electric torch you will not come back smelling like smoke that is almost impossible to get off your clothes.
How does an electric weed killer work?
An electric weed burner produces intense heat and blasts the weed with temperatures up to 1200 degrees Fahrenheit(600℃) which results in destruction of the plant's cell structure.
As a result the weed will die in a few days.
The manufacturers claim that it takes only 3-10 seconds to destroy the weed.
Large weeds might need repeated application (at interval 1-2 weeks).
How to use an electric torch for burning weeds
Plug into the electric outlet. (Most likely you will need to use a heavy duty extension cord on a reel).
Install the correct nozzle for weed burning.
Set temperature setting (usually setting 2 for burning weeds).
Let the tool warm up (around 40-45 seconds)
Point the nozzle at the weed and slowly rotate around the weed for 3 seconds (without actually touching the weed, more like 1 inch above the weed).
After you are done, turn off the heat, then let the device cool off before storage.
As with any other electric tools, be sure to read and follow manufacturer's instructions.
And now, see Garden Gear electric weed burner in action in this YouTube video made by CliffordJamesHome.
Are there any risks when using electric weed burners?
Coopers of Stortford, one of the manufacturers of weed burners notes,
"This appliance operates at a temperature of 600℃ without visible signs of this temperature (no flames).
There is a chance of fire risk.
Watch out for the hot air stream from the mouth piece. This air stream can cause burns."
Remember that weed burners will get hot in use, so use caution and common sense.
How much does an electric weed torch cost?
The cost of electric weed burners ranges between $25-$110 depending on the manufacturer.
I should note that the cord on the tool is short – between 6 – 9 feet (or 1.8 -3 meters) depending on manufacturer, so an extension cord is a must.
If you do not have a heavy duty extension cord at home, you will need to purchase one.
Always use extension cable labeled for outdoor use and suitable for the power input of the device.
An extension cord on a reel will be the most useful and will ease your work, especially if you have a large yard.
Iron Forge Cable heavy duty extension cord on a reel
Offered on Amazon in 2 lengths: 30 feet and 50 feet.
Best electric weed burners
All existing electric corded torches look generally the same with small variations.
They are all lightweight, ergonomic, and easy to assemble.
They all have 2 temperature settings: 60℃ and 600℃ .
All electric weed burners are multifunctional tools.
Majority of them can be used for burning weeds and lighting charcoal, and some of them can be used as a heat gun too for shrinking wrap and other melting and drying needs.
What differentiates these tools from each other is just the number of nozzles the tool comes with, the length of the tool, and the lengths of an electric cord.
Below are images and comparison tables for the top electric weed burners.
Check them out and get one that suits you the best.
An innovative weed burner alternative
Another ingenious electric corded garden tool that eliminates weeds in a safe manner without using chemicals is WeedErase made by Viatek.
Weed Erase by Viatek
This chemical free weed killer uses concentrated infrared and ultraviolet light to destroy the root system of the weed, so it will not regrow. The IR light creates heat that cuts off the water supply from the root, while the UV light penetrates the ground to disrupt the root functions.
WeedErase is easy to use – just put it on top of the weed and pull the trigger. The good thing is that the weed will just wilt and then disappear after application in 7-10 days.
What is great about WeedErase
effective for killing weeds
safe for people, pets and wildlife: no chemicals, no gas, no steam
simple to use
kills just the weed without damaging other plants around
you cannot over apply it: destroying weed with WeedErase won't leave burned patches in your grass
environmentally friendly
extensively tested to ensure excellent quality
no need to bend over to use it: you can adjust height
lightweight and easy to carry
Disadvantages of Weed Erase tool
requires extension cord to be used around the yard
expensive
1-year limited warranty
Where to buy WeedErase
At the current time the best places to get WeedErase are:
Amazon, where this chemical free weed killer tool is offered by 3 sellers, (though this tool is very often out of stock) and
HomeDepot, where the tool can be ordered online and delivered right to your door.
HomeDepot usually sells for less, but price fluctuates, so be sure to check both places by clicking on highlighted links above.
Does WeedErase work?
Reviewers that got it online at Home Depot are very pleased with the purchase and report that WeedErase really works. It's somewhat disappointing though that the limited warranty on this tool is only 1 year. Overall, WeedErase is an effective weed killing tool for homeowners.
For more info on how to use WeedErase and tool warranty, read WeedErase user manual here.
An electric weed burner can make a perfect gift for that special gardener in your life.🌞
Don't you think?
For more gardening gift ideas read:
Like to learn more about innovative gardening tools? Check out this section.
ELECTRIC THERMAL WEED BURNERS
Final thoughts on electric weed burners
Electric weed torches help to maintain driveways, patios, flower beds, and vegetable gardens.
Is it the best weeding tool ever? It's up to you to decide.
I would say, that an electric weed burner is worth considering as a real alternative to toxic chemical products, hand weeding, and propane weed torches since it's benefits outweigh the drawbacks.
If you found this article useful – be so kind to share with friends.
Pin for later reference!
You have read:
Electric weed burner: does it work?