Last Updated on April 10, 2021 by Garden Lady
Super simple and easy stuffed mushrooms recipe – 5 ingredients, 50 minutes, and your delicious side dish or appetizer is ready. 
By: Garden Lady
This stuffed mushrooms recipe makes a welcome addition to any holiday table. It is easy to prepare, requires just a few ingredients and your guests will be begging for the recipe. Guaranteed!
At the same time this recipe is so simple that you will want to make it often as a side dish for weekday dinners.
Did I mention that stuffed mushrooms is also perfect dish if you are on a keto or low carb diet?
White button mushrooms (champignon) or cremini (baby bella) mushrooms work the best for this recipe. You can stuff portobellos too, but you will have to make more stuffing to fill this type of mushrooms.
For  demonstration purposes I used a small pack (8 oz) of white button mushrooms from the grocery store which contained 10 mushrooms. It was just the right amount for me and my husband to have them as a side dish for dinner. For holiday gatherings – at least quadruple the amount of ingredients.
 Ingredients for stuffed mushrooms.
8 oz (1 small pack) of white button or cremini mushrooms 

¼ medium size white onion bulb, finely diced

2 oz of finely shredded Parmesan cheese

a sprig of parsley,chopped (optional)

a sprig of thyme – leaves removed from stem

1 tablespoon of butter

⅛ tsp of salt

⅛ tsp of freshly ground pepper 
Step by Step Instructions
1.Wash mushrooms and wipe with paper towel.
2. Separate mushrooms stems from caps.
3. Arrange mushroom caps in a baking dish greased with cooking spray.
4. Preheat oven to 380 F.
5. Finely dice mushroom stems.
6. In a skillet melt butter, add diced mushroom stems, finely diced onion and thyme. Cook for 2 minutes on medium high until onion is golden-translucent. Turn off heat.
7.Let the mixture to cool off. Add finely shredded Parmesan, chopped parsley and mix with the rest of the ingredients. This will be your stuffing.
8. Fill mushroom caps with the stuffing.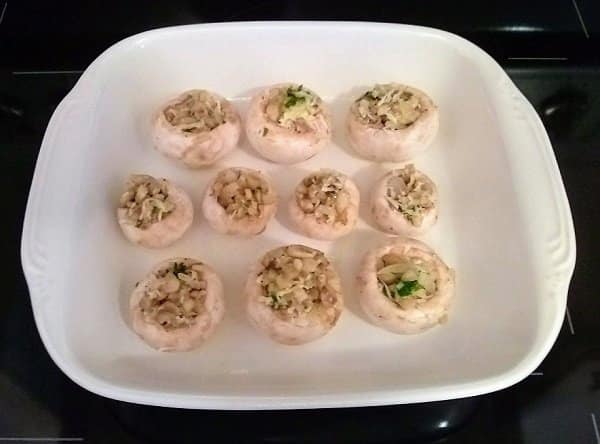 Bake in the oven for 30-35 minutes (depending on the size of mushrooms). During baking mushrooms should release juice and you should bake them till the juice evaporates, otherwise the mushrooms will be spongy.
Serve at once.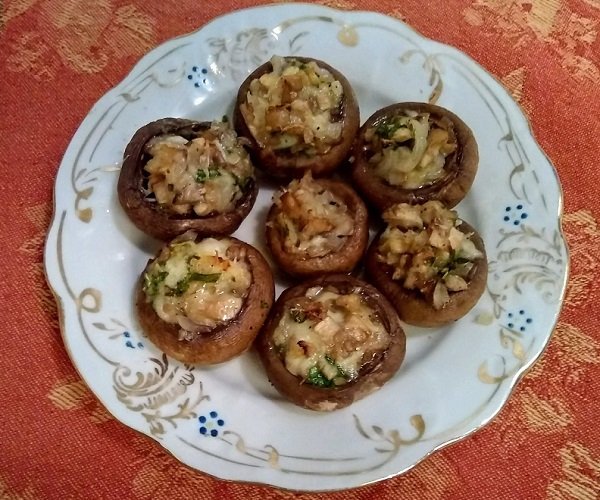 Do Ahead
If you want to serve the dish for a holiday dinner – you can prepare stuffed mushrooms a day ahead. 
Do steps 1-8 a day before the crowd is coming, cover the baking dish containing stuffed mushrooms with clear plastic wrap and store in the fridge up to 24 hours. Then bake the mushrooms next day before serving (step 9 from instructions).
You have read:
Stuffed Mushrooms