Last Updated on August 20, 2022
Quick and easy spring salad recipe made with fresh ingredients picked from your garden. 
This spring salad recipe is suitable for a vegetarian or keto diet.
All ingredients (radish, green onions, hard-boiled eggs, cheese, and sour cream) are keto friendly.
What is the first crop that you are getting from your garden in early spring?
After foraging in my small garden, I usually return to the house with green onions, radishes, sorrel, and young lettuce leaves.
A fresh aroma permeates the house and after giving my harvest a quick wash, I am ready to prepare my first spring lunch of the year made from ingredients picked from my garden.
On the menu today are sorrel soup (read the recipe here) and a spring salad.
*This post contains affiliate links. If you choose to purchase any of the products I have recommended, I may receive a commission at no cost to you. You can read my full disclosure at the bottom of the page.
SPRING SALAD
| | |
| --- | --- |
| Servings | 4 |
| Ready In | 15 Min |
| Good For | Lunch Or Dinner |
| Used As | Side Dish |
Ingredients
Step by Step Instructions
Wash and slice radishes and green onions. Place in a large bowl.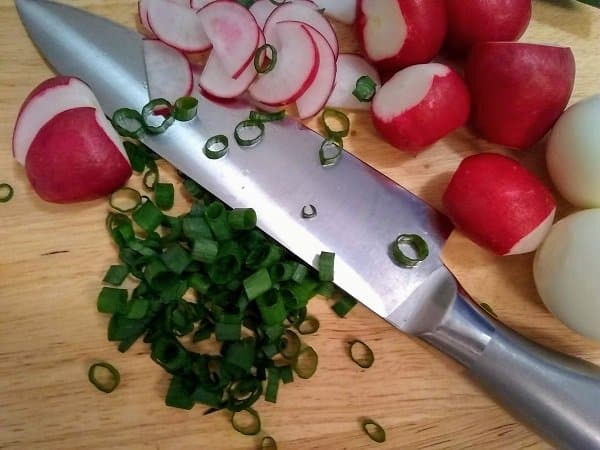 2. Dice hard-boiled eggs. Add to the bowl.
3. Add shredded cheese (you can use Parmesan or mozzarella shredded cheese for a keto recipe or shredded vegetarian Italian style hard cheese for a vegetarian salad).
4. Season with salt and add sour cream.
5. Mix all ingredients together.
Your salad is ready!
Spring salad variations and serving suggestions
On a slice of freshly baked bread place a few young leaves of lettuce and top with a spring salad. Serve with sorrel soup.
Later in the season you can add sliced young cucumber and dill to the spring salad and serve it on toast with arugula.
If you do not bake your own bread, you can cut a few rounds of pita bread, brush one side with olive oil and broil for 1 minute. Then place some young lettuce leaves on the pita and top it with a spring salad.
The spring salad also can be served as a side dish. It goes good with smoked lean pork loin or turkey breast, baked potato and sausage, mashed potato, buckwheat kasha, or grits.
It can be placed as a dish in a salad bowl on the table for friends and family gatherings
You can omit eggs and sour cream and add olive oil and black pepper instead. In this instance, add just 1 tablespoon of coarsely shredded Parmesan to the salad.
Additional notes on product and tools used in the recipe
1. I do not know about you, but I like radishes that have a mild taste and aren't woody. With some trial and error, I finally was able to find a suitable radish variety that is not hot, yet crisp. It is the French Breakfast radish. They are organic and super tasty! Days to maturation – 25. Alternatively, you can grow Daikon (Japanese radish with a mild crisp taste that should be planted in late summer-early autumn) – to make "spring salad" in fall.
2. To dice the boiled egg quickly and in unified pieces, I use an egg cutter.
The video below shows how you can slice a boiled egg and cut it into long strips. I turn the egg 1 more time to dice it. Though it is not intended by the manufacturer, I also use my egg cutter to dice boiled potatoes and boiled carrots for my potato salad. Saves time.
Related reading: – Check out more fresh garden recipes.
What do you prepare for your first spring garden harvest? Share in the comments.
And if you found this article useful – be so kind as to share it with friends.