Last Updated on September 30, 2023
Learn the easiest way to make the best-mashed potatoes with sour cream. This tasty mashed potatoes recipe uses just 4 ingredients and turns out perfect every time!
If you ever wondered how to make mashed potatoes without milk – you are in the right place. Because the recipe I am about to present is prepared with no milk. Instead, you will learn how to make great mashed potatoes with sour cream.
This recipe requires only 4 ingredients – potatoes, butter, sour cream, salt, and one "must have" tool – a potato masher.
But before we dive in, let's answer some common mashed potatoes related questions.
This post contains affiliate links. If you choose to purchase any of the products I have recommended, I may receive a commission at no cost to you. You can read my full disclosure at the bottom of the page.
What are the best potatoes for mashed potatoes recipe?
You can use any kind of potatoes, but the best potatoes for mashed potatoes are yellow potatoes (like Yukon gold), followed by Russet potatoes, and after that – red potatoes.
If possible – use home grown or organic potatoes from the grocery store. Organic potatoes do make a huge difference in taste.
What utensil to use to mash potatoes?
I know, some chefs swear that the secret to perfect mashed potatoes is a food mill (and lots of butter!).
I beg to differ. 🙂
You can make great mashed potatoes with a simple potato masher that will not cost a fortune. Get a potato masher that has lots of round holes, not a wire masher.
Must have tool for mashing potatoes.
Do not use a stand mixer, hand held mixer, immersion blender, or food processor to mash potatoes because it will result in gluey, pasty, gummy stuff. No good!
It is not difficult to mash potato the old fashioned way – with a stainless steel hand masher. You get some exercise and pour your love in the dish while mashing potatoes. Your loved ones will appreciate it.
What is best served with mashed potatoes?
Mashed potatoes is the perfect side dish for everyday meals, or for the holiday table. They complement almost any kind of roasted, baked, or grilled meat: beef, veal, pork, chicken turkey.
Mashed potatoes, chicken with gravy and steamed Brussels sprouts.
If you are a vegetarian and wonder what to pair mashed potatoes for a complete meal – try roasted root vegetables with thyme and olive oil. You can use steamed vegetables – broccoli, cauliflowers, carrots, peppers, and green beans. Brussels sprouts also go great with mashed potatoes.
Mashed potatoes taste good with green salads too. Check out my spring salad and super simple summer salad recipes. They go perfect with mashed potatoes.
Also, you can have mashed potatoes with any of these dishes:
Are you ready?
It's time to start cooking!
MASHED POTATOES with SOUR CREAM RECIPE
| | |
| --- | --- |
| Servings | 6 |
| Prep time | 10min |
| Cook time | 25min |
Ingredients
2 pounds of peeled and quartered golden potatoes, (for larger potatoes – cut into 6-8 pieces)
½ tsp of sea salt
4 oz of sour cream
1.5 oz (3 tablespoons) of butter
Note – for this recipe I used 2 pounds of potatoes already peeled.
Step by Step Instructions
1. Wash potatoes in cold water and peel with a vegetable peeler, or if you are skillful enough – with a paring knife (that is my preference).
2. Cut potatoes into quarter chunks. Place them in a saucepan and cover with cold water by 1 inch. Add 1 teaspoon of salt. Close potatoes with a lid and bring to a boil on high.
3. When potatoes start to boil, lower heat to medium low and let it cook for 20-25 minutes. You should be able to pierce potatoes with knife easily when they are cooked.
4. Drain potatoes. Keeping them in the pot they were cooking, add 3 tbsp of butter to hot potatoes, close the lid and give pot a swirl, to allow the heat of potatoes to melt butter.
5. Open the lid and mash potato in the pot with a potato masher until potatoes are broken down.
Add sour cream, then mash until potatoes look creamy (but not gluey). Taste your dish. Add more salt and sour cream if needed, and give the final mash to incorporate added ingredients.
7. Transfer potatoes from the pot into deep dish and serve.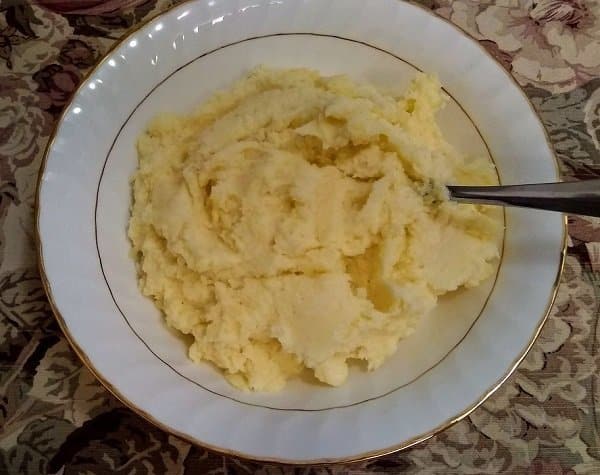 Though mashed potatoes taste the best while fresh, they can be made up to 2 days ahead of time and reheated in the microwave. Just mix them with a spoon after reheating to avoid cold spots.
Mashed potato leftovers work fabulously for shepherd's pie, pierogi, or gnocchi.
There you have it – tasty mashed potatoes. Hope they turned out perfect and you will make them often.
How do you make your mashed potatoes? Share in the comments.
And If you like this recipe, please share with friends.
Pin for later reference!