Last Updated on September 19, 2023
This Ukrainian sorrel soup (green borsch) will become a favorite on your family menu from early spring until late autumn.
Usually by Easter time you can pick a handful of young sorrel leaves from your garden, just enough to make this delicious soup. Serve it with home-made bread topped with spring salad – and you will have a light and tasty lunch made with your new garden-fresh crop.
The distinctive acidic taste (in a good way) of this soup comes from the oxalic acid that sorrel contains. Young sorrel leaves have less acid, taste milder, and are more preferable for cooking.
Where can you buy sorrel if you do not have it in your garden?
You can get it:
from a farmer's market
buy in a Whole Foods or Harris Teeter store (in herb section)
order online through Instacart
*This post contains affiliate links. If you choose to purchase any of the products I have recommended, I may receive a commission at no cost to you.
To make the recipe below – 1/2 of sorrel bunch from Whole Foods will suffice.
If you taste this soup, happen to love it, and wish to make it frequently – the most cost effective way to get sorrel will be to grow your own perennial sorrel plant from seeds and enjoy bountiful crop till late autumn year after year.
Read related article How to grow sorrel
The recipe that I present today is my lean and quick version of Ukrainian sorrel soup (also known as Eastern European sorrel soup, green soup, or green borsch).
If you are a meat eater – use chicken, beef, or turkey broth and (optionally) precooked chicken or beef sausage.
You can make this soup vegetarian by using vegetable, or mushroom broth, or just plain water. The vegetarian version of this soup can be served cold on hot summer day.
Try it! It tastes bright … like spring. You will not be disappointed!
SORREL SOUP
| | |
| --- | --- |
| Servings: | 4 |
| Servings Size : | 1.5 cup |
| Ready in: | 40min |
| Good for: | Lunch |
Ingredients
6 cups of chicken broth (use vegetable or mushroom broth for vegetarian version (see notes below the recipe)
1/2 cups of wild rice blend
1 large carrot, grated
1 large potato, peeled and cut in strips
approximately 1.5 – 2 oz of sorrel leaves (with no stems) from your garden or farmer's market, thoroughly washed and cut in strips
2 sprigs of fresh dill, chopped
1 lean precooked sausage, can be smoked (I like to use Gilbert's Chicken Bratwurst craft sausages), diced
1 hard boiled egg, diced
1 bay leaf
1/2 tsp of sour cream
salt and pepper for seasoning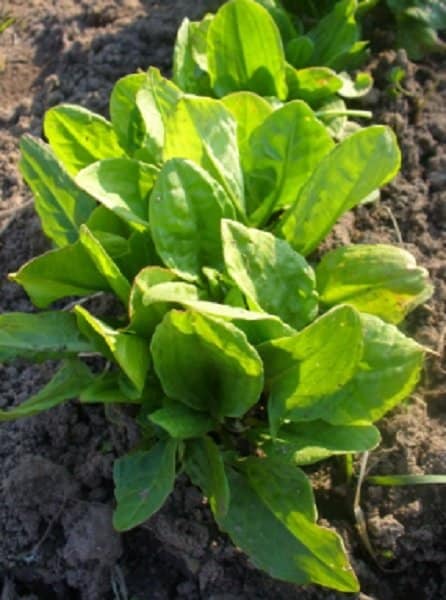 Cooking Tip
To neutralize the sourness of sorrel, add a little bit of sour cream to the sorrel soup at the end of cooking time. The older, larger (and more sour) sorrel leaves you are using – the more sour cream you will need to add to "kill" overly acidic taste.
Step by Step Instructions
Pour water or broth in the pot. Add rinsed wild rice/white rice mixture. Bring to a boil. Cook on low heat for 10 minutes
Add carrot, potato, bay leaf, (and sausage if you wish). Continue to cook on low heat for next 10 minutes. Do not cover soup with a lid.
Add sorrel. Continue to cook 1 minute.
Add sour cream and stir the soup. Add cubed boiled egg. Turn the heat off.
Discard bay leaf. Season with salt and pepper. Add fresh chopped dill.
Let soup stand at least 10 minutes to develop flavor before serving.
Serve with freshly baked bread topped with spring salad or with garlic toasted sandwiches
Additional notes on product and tools used in the recipe
1. Sorrel seeds to start your sorrel patch.
I started to grow my sorrel from organic sorrel seeds from Ukraine (sold on Amazon). If you would rather prefer U.S. garden sorrel seeds – try Green de Belleville variety. David's garden seeds offers non GMO red veined sorrel seeds.
Read related: How to grow sorrel.
2. Wild rice blend – hands down HT Trader's organic wild rice mixture from Harris Teeter grocery store, works the best for me for this recipe. This blend contains American basmati white rice, brown rice, wild rice, and red rice. Delish!!!
3. To make quick yet tasty broth I use Better Than Bullion organic chicken, beef, turkey, vegetable, or mushroom bullion. Just add a half tablespoon to the boiling water for the Sorrel Soup recipe. You can obtain Better Than Bullion in your local grocery or buy from Vitacost or Amazon.com.
4. Egg cutter helps to dice boiled egg quickly in perfect and unified pieces. It takes just 3 passes.
5. I like to serve soup in a bowl with a handle. It makes it easy to eat it with a sandwich. And everything tastes better from an attractive bowl!
Double handle soup bowls set
(offered by Amazon)
(offered by Sur laTable)
Have you ever tried sorrel soup? How did you like it? Share in the comments.
And if you found this article useful – be so kind to share with friends.
Related reading:
Easter food ideas:
Easter eggs decorating ideas:
Decorating for Easter: