Garden Herbs List: 40 Types of Herbs to Grow in Your Garden
A garden herbs list with pictures.
Learn about 40 types of herbs you can grow in your garden.
Alphabetical list of 40 common types of herbs
First, I'll present you with an alphabetical list of herbs for your garden, so you can see at a glance what you can grow:
Aloe

Arugula

Basil

Bay laurel

Bee balm

Borage

Bunching onions

Calendula 

Caraway

Catnip

Chamomile

C

hervil

Chives

Cilantro

Cutting celery

Dill

Fennel
Garlic
Garlic chives
Green onions
Hyssop
Korean mint
Lavender
Lemon balm
Lemongrass
Lovage
Marjoram
Mustard
Oregano
Parsley
Peppermint
Purslane
Rosemary
Sage
Savory
Sorrel
Spearmint
Tarragon
Thyme
Watercress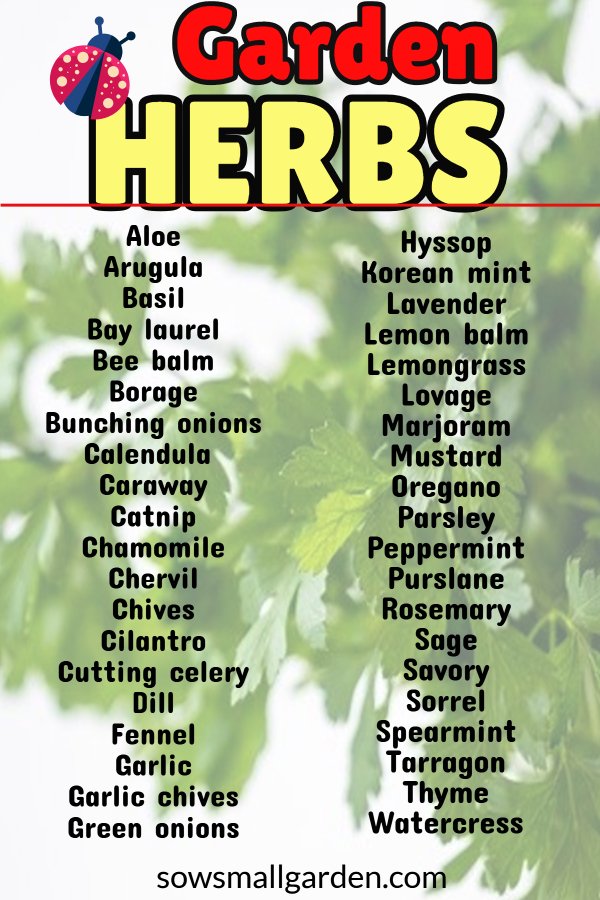 Pin or print for a reference!
Or have you felt adventurous and selected  some herb you never heard of before, like lovage or borage? After all, your garden can't be "borage" with lovage! 😄
Whatever you chose, I am rooting for you, wish you much luck with your herb garden and lots of satisfaction on your gardening journey.👩🏽‍🌾
If you found this article useful – be so kind to share with friends.
You have read:
Garden Herbs List: a guide to 40 herbs
You have read:
Types of Herbs: List of Herbs to Grow in the Garden