Last Updated on February 9, 2023
Are fiberglass planters good?
Fiberglass planters are weather resistant, lightweight, ideal for indoor and outdoor settings, maintenance-free, and durable. They will outlive planters made from any other material.
So, should you get one for your garden, patio, or home?
In this article, you will learn all you need to know about fiberglass (as well as fiberstone and fiber clay) planters in order to make an informed purchase decision.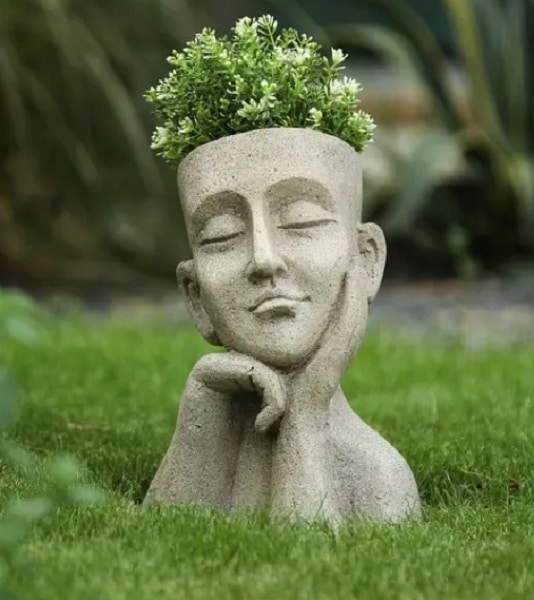 This unique fiberglass planter is offered by Overstock.com
*This post contains affiliate links. If you choose to purchase any of the products I have recommended, I may receive a commission at no cost to you.
Let's get to it!
But the first thing first
Is it fiberglass or fiberglass?
According to wikidiff, fiberglass is the US spelling of fiberglass.
Since I live in the US, I will be using the word fiberglass in this article.
And now the next question arises:
What are fiberglass planters made of, exactly?
Fiberglass planters are made of composite material formed from fibers of spun glass that are held together with resin.
Sometimes fiberglass is called glass reinforced plastic.
Some manufacturers are now adding different materials to create a better planter texture.
For example, it is possible to get fiberclay planters made of a mix of fiberglass and clay,
Luxen Home fiberclay planter
offered by Walmart
or fiberstone planters in which fiberglass is combined with about 60% finely ground stone.
Elle Decor elegant conic fiberstone planter
offered by Amazon
How fiberglass planter is made
Making of a fiberglass planter or pot starts with the mold. The resin is mixed and poured into the mold and then brushed on the mold walls.
Sheets of fiberglass are placed in the mold over the resin layer to give the planter structure.
Then a chemical reaction occurs: fiberglass and resin warm up and harden.
After 24 hours the planter is taken out of the mold.
It gets sanded, cleaned, and painted.
You can watch the whole process of making a fiberglass pot in this YouTube video created by Spruce Home and Garden – a maker of fiberglass planters.
Fiberglass planter advantages from a design point of view
What I like the most about fiberglass planters is the range of design options to choose from, because fiberglass pots can be made to mimic any material.
So, depending on your decor needs or style of your garden you can get a fiberglass planter that looks like wood, terracotta, cement, stone, and ceramic. It can be glazed, shiny, slick and modern, or dull and aged – the possibilities are endless.
Your new fiberglass planters will look great in a container garden and kitchen garden, on a patio, balcony, rooftop, front porch, outdoors or indoors.
They are an ideal solution for commercial applications too. If you need long-lasting great looking planters in the front of your restaurant or shop – fiberglass planters are a great maintenance-free choice.
You might wonder though, why wouldn't get a terracotta or cement planter in the first place instead of setting on an imitation?
That's because fiberglass planters have many other great benefits.
Benefits of fiberglass outdoor planters
long lasting
lightweight which makes them easy to move – great choice for a container garden and especially for rooftop gardens
durable
don't require maintenance
weather resistant
won't rust
won't crack from temperature changes
nonporous, can actually prevent water evaporation and minimize soil moisture loss
color will not fade from sun
can be left outdoors during frost, so don't require special storage over winter
you can leave soil in a fiberglass pot over winter.
So, it seems everything screams YAY for fiberglass pots. Don't you think?
Yet, there are some
Fiberglass outdoor planter drawbacks
fiberglass planters trap heat in hot weather (because they are non porous) which leads to overheating of the soil on hot sunny days. This can bake plant roots.
fiberglass pots can crack when dropped
some of them are quite pricey
fiberglass containers are not ideal for growing tall vegetables – like tomatoes, peas, green beans, because they might topple over if you insert support (stakes, cages) for plants
small fiberglass pots may get blown by heavy winds and need to be sheltered in severe weather
many fiberglass containers come with no drainage holes.
Fiberglass pot/planter by Orren Ellis
For indoor and outdoor use
Available in 3 sizes
offered by Wayfair.
How to overcome some disadvantages of fiberglass pots
To avoid the possibility of plant roots getting baked in the fiberglass pot in hot sunny weather choose white or very light colored planters.
You can also line the insides of a fiberglass container with thermal fabric if you are growing decorative plants in it. If you are planning on growing vegetables in this planter, be sure that the liner you are using is safe for food growing.
To solve the tipping over issue, you can place rocks in the bottom of the planter.
As for drilling a drainage hole – it's easily done. To see instructions, scroll down and find the useful tip "How to make a drainage hole" in my article about container gardening.
Who should avoid fiberglass outdoor planters?
If you live in a desert or tropical climate and need a pot that will be exposed to sun rays all day long, then maybe this kind of planter is not the best choice for you (and clay pots will be a more suitable option).
Are fiberglass planters toxic? Is it safe to grow vegetables in fiberglass planters?
After scouring the internet I didn't find any mention of possible toxicity of fiberglass planters.
Unlike plastic planters, where color pigment that can be toxic is mixed with plastic, the paint and glaze on fiberglass planters are applied to the outer surface of the planter.
Most likely, fiberglass planters are suitable for growing dwarf fruit trees, blueberry bushes, strawberries or veggies in them.
Wonder what to plant in your fiberglass planter?
🌼 Get Garden Lady's free Herbs eBook and start growing your own culinary and healing herbs in your planters and pots.
Where to buy fiberglass planters online?
carry fiberglass, fiberstone, and fiberclay pots and planters.
ePlanters offers high end sophisticated Jay Scotts fiberglass planters.
Lowes carries classic style fiberglass planters that are perfect for dressing up your front door. This store offers two brands: Allen + Roth and Outdoors Distinctions. Check them out, since the planters are not only beautiful, but also highly rated and very reasonably priced.
You can find fiberglass pots and planters at Home Depot. They are pricier compared to Lowes. Vasesource is their slick and modern fiberglass planter line, Southern Patio offers earthy, natural looking planters. They also carry the Outdoors Distinction brand (same as in Lowes).
Overstock.com has beautiful, unusually textured Le Present fiberglass planters. Some of them combine fiberglass with other materials (wood, concrete) and look like a piece of art. Check them out!
I was pleasently surprised by large collection of fiberglass planters at Walmart.com. In my opinion. it offers better choice than Amazon.
Best fiberglass planters: our top choices
1) slick and modern
PolyStone Riviera planter box
Dimensions: 46″L x 17″W x 12″H, various colors
offered by Amazon
2) impeccably designed
Le Present Lux Betona Fiberglass and Concrete Pot Planter
offered by Overstock
3) natural and earthy
Southern Patio Unearthed Fiberglass Planter
Dimensions: 17″ wide x 19″ tall
offered by Home Depot
4) bold statement for indoors or outdoors
Dublin Fiberglass Planter
offered by Amazon
5) set of 3 for perfect grouping
Pure Garden fiberclay planters set
Dimensions: 9.75" x 9.25" H, 13.5" x 12.25" H, 17.5" x 17" H.
(Amazon often runs out of this item. You can wait till it's back in stock or alternatively get it from Walmart online.)
6) handcrafted and beautifully detailed
Allen + Roth fiberglass planter
offered by Lowes
7) clean lines and minimalism
DesMode standing fiberclay planters (set of 3)
offered by Walmart
Make a bold design statement with your fiberglass planter
Indoors:
To transform your living space and achieve this look, combine:
1. Slick and modern 12 inch Fox&Fern fiberstone planter with
2. 12 inch Mcono planter stand and
3. live fiddle leaf fig tree -fast growing indoor plant.
How to care for your fiberglass pot?
Though fiberglass pots are maintenance free, they sometimes will need to be cleaned from dust or dirt buildup.
You can safely wash them with water and any mild soap or detergent.
Fiberglass polish also can be applied to glazed fiberglass planters to enhance their appearance.
How to repair a fiberglass planter?
Get Bondo fiberglass resin and follow instructions on the package.
You can use it for small to very large repairs to any fiberglass.
DIY fiberglass planter
If you want to make an outdoor fiberglass pot or planter at home, follow the step-by-step process described in this guide.
Read related:
Where you can use fiberglass planters:
Decorate your garden or backyard space:
What to plant in a fiberglass planter?
Check out more garden decor products
Final thoughts on fiberglass planters
If you need a planter that is long lasting, beautiful, and easy to care for – consider one made of fiberglass. No doubt, fiberglass planter is the most durable planter you can find.
Fiberglass planters will not only hold your plants, but they will also decorate your indoor or outdoor space. Some high end fiberglass planters can be considered as a piece of art that will enchance the beauty of your garden.
You have read:
Fiberglass Planters
Pin for later reference!