Last Updated on August 20, 2022
Festive, crisp, sugar-free, keto-friendly, and healthy coleslaw recipe with a secret ingredient for a healthier holiday.
This healthy coleslaw tastes bright and refreshing. And it's quite quick and easy to make too!
Lots of fresh colourful vegetables make this coleslaw look festive, and an addition of a secret ingredient helps digestion, which is important during holiday overindulgence.😉
But this recipe is not reserved for the holidays only. It makes healthful eats for every day too.
Feel free to put it on a sandwich with pulled pork or grilled chicken for a tasty lunch. You can also serve this coleslaw with pizza or mashed potatoes for a weekday dinner.
This post contains affiliate links. If you choose to purchase any of the products I have recommended, I may receive a commission at no cost to you. For more information, please see my disclosure.
So, you probably wonder:
What is the secret ingredient for a coleslaw recipe that helps digestion?
And the answer is … caraway seeds.
I use toasted caraway seeds in this coleslaw recipe to help the body easily digest raw cabbage.
Also, the addition of caraway seeds makes an unexpected twist in coleslaw taste.
Fun Facts about Caraway
Caraway seeds were used as a digestive aid for centuries. Their consumption prevents bloating and eases digestive tract cramps.
Clinical studies also confirm that caraway seeds improve symptoms of indigestion.
Caraway seeds are quite popular in Central and Eastern European cooking. I used to buy bread with caraway seeds daily in the bakery in my youth.
Another interesting tidbit about caraway is that the whole caraway plant (which looks similar to a carrot plant) is edible.
If you do not have caraway seeds – just omit them.
If you are short on time – you can use raw caraway seeds, toasting makes them more fragrant though.
FESTIVE COLESLAW RECIPE
| | |
| --- | --- |
| Servings | 6 |
| Prep Time | 20 Min |
| Use For | Lunch, Dinner |
Ingredients
A wedge of green cabbage, thinly shredded
A wedge of red cabbage, thinly shredded
1 yellow banana pepper, cut in thin strips
1/4 red bell pepper, cut in thin strips
¼ green bell pepper, cut in thin strips
4 green onion spears or chives (optional)
1 stalk of celery, sliced
1 large carrot, grated (use the largest holes on the box grater)
1 radish, sliced
1 mini cucumber, sliced
2 sprigs of dill, chopped
3 sprigs of parsley, chopped
1/4 teaspoon of caraway seeds
1 tablespoon of pomegranate seeds
Salt and black pepper to taste
For the dressing
3 tablespoons of sour cream
3 tablespoons of Duke mayonnaise (you can use any other brand of healthy mayonnaise that doesn't have sugar)
Notes
Also, you can add to the salad walnut pieces, sunflower seeds, dried cranberries, or grated apple.
Feel free to substitute banana pepper with bell pepper
You can use only green or only red cabbage if you wish, but using both will make your coleslaw more colorful and festive.
If you do not have some ingredients, omit them. Only cabbage, carrot, and dressing are "must" ingredients for coleslaw.
Step by Step Instructions
Thinly shred red and green cabbage.
2. Place in a bowl, sprinkle with salt. Wearing a food grade disposable glove give 4-5 squeezes to the shredded cabbage. So it can release some juice and become slightly softer.
3. Prepare other vegetables: grate carrot, thinly slice bell peppers, celery, mini cucumber, radish, chop parsley and dill, clean pomegranate seeds.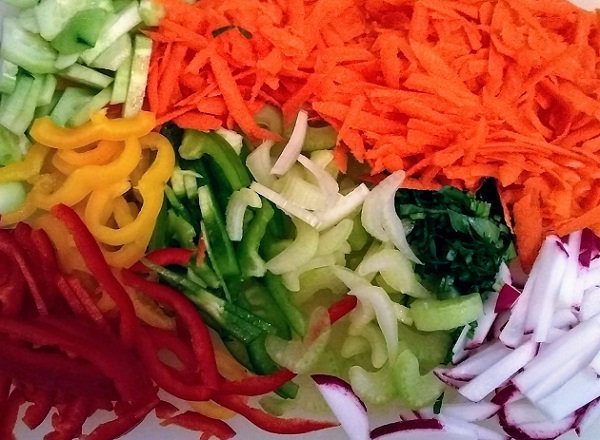 4. Combine all ingredients in one bowl. Add more salt and freshly ground pepper. Mix all ingredients.
5. Heat small frying pan over medium heat (do not add cooking spray). Place caraway seeds on the pan and toast them shaking pan frequently until aroma fills the air – for about 2 minutes.
6. Add seeds to the rest of the coleslaw ingredients Alternatively, you can add them to the dressing.
7. In a small bowl prepare dressing: combine sour cream and sugar free mayonnaise in equal parts. Mix well.
8. Add dressing to the coleslaw and mix with the ingredients. Your festive dish is ready!
9. Serve and enjoy!
Coleslaw with homemade whole wheat pizza tastes so delicious!
Interested in more side dishes for holidays?
Then read and make:
Check out more fresh garden recipes.
How do you make your coleslaw? Share in the comments.
And if you found this article useful – be so kind as to share it with friends.