Last Updated on May 19, 2023
Choose the best AeroGarden for your requirements with our top AeroGarden model comparison and reviews.
If you want to start a successful indoor garden, the thought about getting a fool-proof Aerogarden system most likely crossed your mind.
A quick look at what's available on Amazon left you confused: there are so many Aerogarden models, but which one to choose? What is the best AeroGarden to buy?
No fear!😊 Our AeroGarden comparison tables will help you view the 3 main AeroGarden product families at a glance in order to understand what differentiates them, and our best Aerogarden reviews will help to narrow your choice and pick the best AeroGarden that suits your needs.
For busy people who are in a hurry:
✅ Most Amazon customers are choosing this AeroGarden model that allows growing 9 plants at a time: from herbs and lettuce to tomatoes and peppers.
*This post contains affiliate links. If you choose to purchase any of the products I have recommended, I may receive a commission at no cost to you.
IN THIS POST:
What is an AeroGarden?
Why would you want an AeroGarden? 23 reasons to get one
AeroGardens comparison (Aerogarden models in 2020 at glance)
How to choose the best AeroGarden that suits your needs
Aerogarden reviews: 3 best AeroGardens
Is AeroGarden worth it?
What is an AeroGarden?
An AeroGarden is the world's leading advanced hydroponic indoor gardening system that allows you to grow delicious, fresh vegetables no matter the season!
It uses just light, water and liquid nutrients to grow plants. No soil is required.
Everything you need for growing comes in the box. Your plants are guaranteed to grow even if you don't have a green thumb, because AeroGarden does it all for you: from automatically turning grow lights on and off, to reminding you when to add water and nutrients.
Two weeks after starting herb garden in AeroGarden Harvest Elite Slim.
23 reasons why you should get an AeroGarden
Steady supply of fresh and tasty food.
Several harvests during the span of a year.
Grow produce in any climate all year around without an expensive greenhouse.
You can have a garden even if you live in a tiny apartment.
AeroGardens take very little effort and time to garden in comparison with traditional gardening.
It's weed-free, dirt-free, and pest-free.
Plants can be grown more compact as the roots are not fighting for the same nutrients as they do in soil.
Plants can grow 5 times faster in a mixture of water, air and nutrients than in a traditional garden with soil.
Aerogarden is a great option to garden for seniors or people with disabilities.
You don't need to buy gardening tools, pots, soil and other gardening supplies.
Cheap operating cost – LED lights cost just pennies a day to use.
The growing process is zero-waste and environmentally-friendly.
All aerogarden seed pods are as "green" as it can get . AeroGarden promises: "Non-GMO. No herbicides. No Pesticides".
Pre-seeded pods sprout in days, harvest in weeks and last for months.
Germination is 100% guaranteed. If a pod doesn't germinate, the company will replace it for free.
You can grow a wide variety of veggies, herbs and flowers using an Aerogarden. You can even grow strawberries or Alpine strawberries for fruit.
Highly customizable for what you can grow: there are 70 varieties of seeds available in pods, or you can buy Grow your own pod kit and use any seeds you want in it.
Control panel for automation and easy growing.
Aerogarden is great for starting seedlings for replanting them later in the outdoor garden or pots.
There are different shapes and sizes of Aerogarden to meet your food and style demand, as well as budget.
If you're not fully satisfied, just return AeroGarden within 30 days for a full refund – no questions asked.
It brightens your day!😊 (literally and figuratively).
Seeing your garden sprout and grow lifts your mood.
Are you convinced yet that you need an AeroGarden?😊
AeroGarden Comparison (for 2023)
All basic information you need to know about AeroGardens that are manufactured in 2022 is in the chart below.
Discontinued Aerogarden models are not on the list.
You can see that there are 3 main families of Aerogarden models: Harvest, Bounty and Farm, and observe that they differ by the amount of plants you can grow, LED light wattage ,and grow height.
A note. I didn't include AeroGarden Sprout (3 pods, 10W light, 10" growing height) in the chart because this model is out of stock on the manufacturer's site and online retailers selling AeroGarden. Since you cannot buy it, there is no point to put it on the list
How to choose the best Aerogarden (step-by-step instructions)
1. Decide how many plants you want to grow: 6 (Aerogarden Harvest), 9 (Aerogarden Bounty), 12 or 24 (Aerogarden Farm)
2. Consider what you want to grow:
If you are planning on growing tall plants as tomatoes and peppers, cross out Aerogarden Harvest from your list right away. For really tall plants your best bet will be Aerogarden Farm. Depending on the Aerogarden Farm model you can grow plants 2-3 feet tall. Aerogarden Bounty will let you grow plants up to 2 feet tall.
If you want to have just a limited amount of fresh herbs to brighten up your dishes –then, on contrary, AeroGarden Harvest is all you need. 6 herbs at a time for a beginner garden and kitchen enthusiast is plenty.
If you are undecided what you might want to grow, then go with a happy medium – check out Aerogarden Bounty models where you can grow 9 plants at time as tall as almost 2 feet. Trellis comes with the unit.
3. After you figured out how many plants you want to grow and picked a product family (Harvest, Bounty, Farm), you just need to choose the most suited Aerogarden model depending on its specific features, color, style, and price.
The style depends on how the pods are situated on the growing deck. Slim model means the pods are positioned in one row, so the unit is very narrow, while 360 Aerogarden models are round.
Elite models will always have more "bells and whistles" and higher price.
Here is the list of available Aerogarden models in 2020. All that you need to do is to compare just 3-4 models to make your final decision:
AeroGarden Harvest models:
Harvest, Harvest 360,
Harvest Elite, Harvest Elite 360, Harvest Elite Slim.
———————————–
AeroGarden Bounty models:
Bounty Basic (30W light),
Bounty (40 W light)
Bounty Elite, Bounty Elite Artisan (50W light)
—————————————-
AeroGarden Farm models:
Farm12, Farm12XL (12 pods)
Farm 24Plus, Farm24XL (24 pods)
————————————
Best AeroGardens
AeroGarden Harvest Elite – 6 pods, 12 inch height. Best to grow fresh herbs inside your house to brighten up your dishes all year round.
AeroGarden Bounty Elite – 9 pods, 24 inch expendable height. Automated garden management. Great garden to feed one person, or supplement family of two with fresh produce.
Aerogarden Farm Plus – 24 pods, 24 inch height. Automated garden management. Equals the output of a 6X6 foot traditional garden bed. You can feed a family with this garden, especially if you get two units and stack them vertically.
If you want to grow plants up to 3 feet tall, then get Farm 24XL that accommodates 24 plants, or Farm 12 XL -12 plants.
Pros:
you can grow 6 plants up to 12 " tall in this unit
easy to set up and maintain
comes with free 6 pod kit of gourmet herbs (dill, 2 basils, mint, parsley, and thyme)
the timer and notifications makes it easy to manage
classy look, real stainless steel finish, available in 4 colors
great for growing herbs, lettuce and flowers (like petunia or nasturtium), ideal for starting seedlings for further replanting outdoors.
The downside
the full spectrum LED light is really bright and is on for about 16 hours a day. You might need to find a location where it doesn't bother your eyes
the unit is not tall enough to grow taller plants like Swiss Chard or tomatoes. The leaves will reach the lights and end up with burns. To grow taller plants look for AeroGarden Bounty and Farm products
the unit and pods are quite expensive for the amount of produce you can grow.
Watch a short Harvest Elite video made by AeroGarden company.
Verdict: AeroGarden Harvest Elite is a great starter garden to dip your toe into indoor hydroponic gardening. It will provide you with a steady supply of herbs for all your cooking needs throughout the year.
Pros:
you can grow 9 plants up to 2 feet tall
easy to setup and use
great appearance, especially in stainless steel finish, AeroGarden Bounty Elite can coordinate well with your stainless steel kitchen appliances
easy to navigate touch screen control panel
dimming grow lights let you control the brightness of the garden
comes with trellises for support, in case you decide to grow tall plants like tomatoes or pepper
when you buy a unit you can select one 9 pod seeds kit among: 1)gourmet herb, 2) heirloom salad greens, 3) cascading petunias or 4) cherry tomatoes.
The downside
the tall plants, like peppers and tomatoes, get quite cramped; it is not a good idea to fit a plant in each available spot in the growing deck
some customers feel that the unit isn't great for the larger plants, such as cherry tomatoes – it's not quite tall enough
some users reported occasional technical problems, like WiFi couldn't work, trouble with the sensor that will not reset after adding water, lights not shutting off, etc.
Watch Aerogarden Bounty Elite one minute video on YouTube, presented by the manufacturer.
Verdict: AeroGarden Bounty Elite is a great choice for growing greens and herbs for a family of two. It's great if you want to grow bigger plants, such as peppers and tomatoes, too. With Bounty Elite model you also will be able to use Alexa or your wifi to check on how your garden is doing.
Related reading about plants you can grow in your AeroGarden:
Pros:
2 bowls for gardening variety
stylish, well made, and well programmed
AeroGarden 24Plus gives you 2.5x in growing capacity compared to other Aerogardens, so you might grow enough produce to supply your family
you can grow everything you love, including tall plants like tomatoes and peppers, year around right inside your home
advanced grow light system is fully customizable, you can adjust the light's intensity or the automatic sunrise/sunset feature to fit your lifestyle
there are two independent 60W LED grow lights and you can adjust their height separately. Each grow light extends 24″ high, so you can let your tall peppers and tomatoes fully mature on one side of the Farm, while you grow shorter lettuce, herbs and flowers on the other side at the same time
full customization and control: you have a choice to control lights and manage your plant's needs from the touchscreen control panel on the AeroGarden, your Amazon Echo device, or from the app on your mobile phone, which also gives you possibility to review your farm status while away from home
touchscreen control panel displays all your AeroGarden's statistics: water level, days planted, and gives you reminders for when to add water and plant food
AeroGarden Farm 24Plus units are stackable vertically, just need to purchase Aerogarden stacking system bracket
two seed pod kits come free when you buy this product, and you can choose between lettuce and herbs, tomatoes, or heirloom salad greens to come with your AeroGarden Farm 24 Plus.
The downside
the instructions that come with the system lack detail
some people have problems with setting up WiFi and app
some customers report that only one side works (to solve the problem you should set up left and right sides of AeroGarden Farm separately)
a few AeroGarden Farm owners tell that the trellis won't stay on supports unless taped.
Watch a quick overview of all Aerogarden Farm family products before making a final decision on Aerogarden Farm model.
Verdict. Aerogarden Farm 24Plus gives you the largest capacity for growing produce to feed your family. Your planting options are truly endless with up to two feet of grow height and space for 24 different plants.
Is AeroGarden worth it?
It depends on what your needs and expectations are.
If you buy an Aerogarden for fun and experiment, or for a cool looking "conversation piece"😊, then YES, Aerogarden is absolutely worth it. We all spend a lot of money on our hobbies and think that the price is justified because it gives us joy and lifts our mood. And when we are happy, reaching our goals in life is so much easier.
If you want to have Aerogarden for freshness and purity of food, then YES again, Aerogarden is worth it! Your lettuce and herbs will taste heavenly, nothing like comes from the store. And the vegetables that you grow in Aerogarden are really healthy with great nutritional value: no GMO, no herbicides, no pesticides, so your taste buds and body will sing with joy! 😊
Having an Aerogarden in 2020 during "shelter in place" order also proved invaluable. So, AeroGarden for uncertain times – worth it!
But if you expect that Aerogarden will make enough food to feed your entire family, you will be disappointed, especially if you get Aerogarden Harvest or Bounty models. With these models you will be able to only supplement your diet, to add a splash of fresh flavor to your daily dishes and salads. I'd say you can get a good sized salad portion for 2-3 people from AeroGarden Bounty once a week.
For me, Aerogarden Harvest Elite with 6 pods capacity was a good investment because I like to use just a few herbs on a daily basis, and having them fresh in winter time while I can't use my outdoor garden is priceless.
If you want to grow produce to feed a family of 3-4 people, then you need an Aerogarden Farm 24Plus or Aerogarden Farm 24XL, or, better yet, stack both units vertically. But, for the money you spend on the 2 units, pods, liquid nutrients, it will be quite an expensive garden. Though building a greenhouse for year-round fresh produce is even more expensive.
With the provided information and by taking into consideration your needs and priorities, you will be able to decide for yourself if Aerogarden is worth it or not.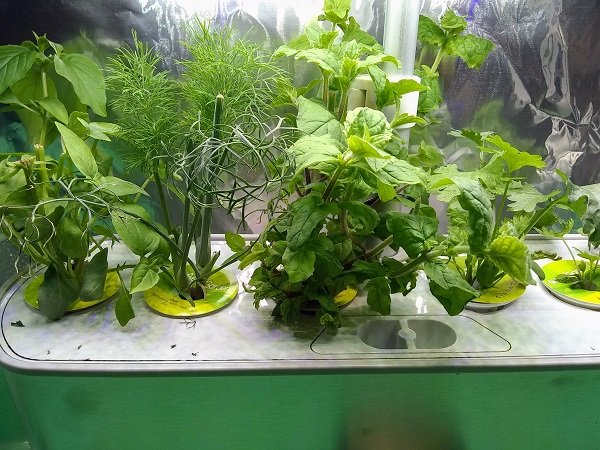 Four weeks after starting herb garden in AeroGarden Harvest Elite Slim.
Run out of ideas on what to get mom and dad for Mother's and Father's Day?
If your parents love to garden, then gifting them with an AeroGarden will be a perfect choice.
An Aerogarden makes a great present for that special gardener in your life for Christmas too, or a gift for your school age children for fun and experimenting!
Need more ideas for gifts for the gardeners?
Then read related:
Learn more about the best gardening tools and products
Final thoughts on Best Aerogardens
All in all, an AeroGarden is a great option if you want to supplement your diet with fresh herbs and greenery all year round with guaranteed success, but without putting too much time or effort into it.
Aerogarden will improve your health, wellbeing, brighten up your home, and your meals. So choose one today among Aerogarden Harvest, Bounty or Farm models and get it for yourself or as a gift for your loved ones. You will be glad you did.
Pin for later reference!
You have read:
Best AeroGarden models