Last Updated on October 18, 2023
10 best sweet apple types for eating, baking, and growing.
Sweet apple varieties list
(sweet apple types from the sweetest to less sweet)
Fuji
Gala
Pixie Crunch
Golden Delicious
Honeycrisp
Red Delicious
Braeburn
Red Rome
Jonagold
Pink Lady (Cripps Pink)
If you are a fan of the melt-in-your mouth sweetest apples, then this article is for you.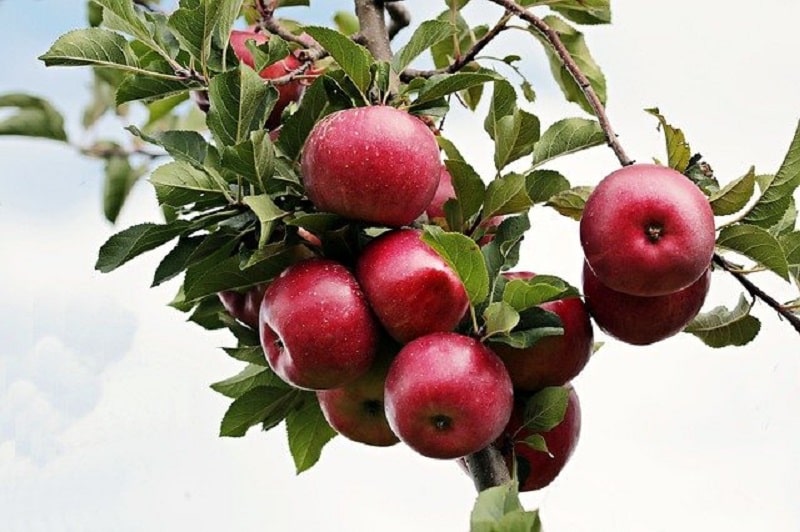 There are an astounding 7500 varieties of apples.
Yep, that many!
They vary in color, texture and flavor.
Some types of apples are delightful! And some are just … meh.:)
If you have a sweet tooth, you most likely wonder:
What apples are sweet?
Which type of apple is the sweetest?
What is the best sweet apple variety for eating?
What's the best sweet apple for baking pie?
You are about to have your questions answered.
*This post contains affiliate links. If you choose to purchase any of the products I have recommended, I may receive a commission at no cost to you.
What apple is the sweetest?
Wonder which apples are the sweetest on the list?
It's the Fuji apple variety. They are the sweetest apples to eat.
What makes apples sweet
The sweetness of an apple is influenced by two factors:
1) how much sugar does it have?
The more sugar – the sweeter the apple. Most apples have between 11 and 18 percent sugar.
2) what kind of sugar it is?
In apples, the main sugars are sorbitol, sucrose, fructose and glucose.
Each type of sugar has a different level of sweetness.
Fructose has 1.7 times as much sweetness as sucrose, while for glucose and sorbitol it's 0.8 and 0.6 respectively!
That means that an apple variety with lots of fructose will be sweeter than an apple variety that has lots of glucose in it.
Flavor, taste, aroma – what are they?
According to psu.edu:
Flavor is the interaction between taste and aroma.
Taste relates to the ratios and intensities of non-volatile compounds: sugars, and acids. which are detected by five classes of receptors in the tongue – sweet, sour, salty, bitter, and umami.
Aroma of fruit is created by volatile compounds, and are detected by over 650 types of olfactory nerve endings in the nose.
1. Fuji Apples
Get live dwarf Fuji apple tree on Amazon
Looking for apples that are sweet and crisp? You can't go wrong with Fuji – the sweetest apple variety. Fuji apples contain 16 to 18 percent sugar. Their flesh is dense and color varies from yellow-green with red highlights to very red.
The Fuji Apple was bred from two American varieties – Red Delicious and Virginia Ralls Janet. This cultivar originates from the small coastal city of Fujisaki in Japan (that's why it's called Fuji).
You can grow Fuji apples if you live in USDA hardiness zones 4 – 8. Fuji apples need lots of sun to develop their sweet flavor. They are late ripening apples, harvested in mid October – early November. Fresh Fuji apple crops become available in the supermarkets in November-December, and because this kind of sweet apples store well they are available in groceries all year round.
Fuji apples are not only great for eating fresh, but they are also good for baking, and freezing.
* Where to buy Fuji apple trees: Amazon
* Where to buy organic Fuji apples: Amazon Fresh
An interesting fact about apples
More than 70% of China's apple production comes from Fuji apples.
2. Gala Apples
Get live potted Gala tree on Amazon
If you are searching for a sweet apple variety – Gala apples are also worth considering. They have 14 to 16 percent sugar content.
Gala apples are juicy and sweet with a crisp flavor that can't be beat. They're perfect for salads because they pair well with all types of greens, and also oranges!
In 2020, Gala apple was the top produced apple variety in the U.S.A. (according to the U.S. Apple Association). It will grow in USDA hardiness zone 4-8. Gala apples ripen in August-September.
If you want to grow your own Gala apple tree, you can get it from Nature Hills or Amazon.
You may prefer just having organic fresh apples delivered by Amazon Fresh.
3. Pixie Crunch Apples
You can get Pixie Crunch apple trees at Spring Hills Nursery.
Undoubtedly, the 'Pixie Crunch' gets into our top ten of the sweetest apple varieties. If you live in USDA zones 5-8, it's a perfect apple tree for you.
You will love its compact size – the tree reaches just 6-8' at maturity, so no ladder for apple harvesting is required! The tree bears fruit in 2-d or 3rd year. Pixie crunch apples are red, with crispy, perfectly white flesh. They are great for eating fresh and outstanding for baking.
4. Golden delicious Apples
'Golden Delicious' is another sweet apple variety for those of us with a sweet tooth. The Golden Delicious is a medium sized apple that will delight your taste buds with its sweetness. It's skin, which turns deep yellow when ripe, reflects the fruit's name. The flesh of this apple doesn't brown as easily, so you can toss it into any salad without worry! It's texture is too soft for baking though.
Golden Delicious apple trees grows in USDA hardiness zones 5-8. The fruit can be harvested from late September and early October.
You can get Golden Delicious apple trees for your backyard at Nature Hills, or Amazon.
5. Honeycrisp Apples
Known for its crisp texture and honey sweet flavor, Honeycrisp apple is one of the most cold hardy varieties of sweet apples you can get – it grows in USDA hardiness zones 3-6. Honeycrisp' variety was developed in 1991 by the University of Minnesota.' The tree bears delicious apples in early September 2-5 years after planting. Honeycrisp apples are great for eating fresh, or for baking.
You can buy Honeycrisp apple trees online at Spring Hills Nursery, Nature Hills, Amazon.
You can get Honeycrisp apples delivered to your door by Amazon Fresh.
Best Apple for Pie
According to Epicurious magazine,
Honeycrisp and Braeburn apples won our taste test for best-in-pie, since they have a just-right balance of sweet and tart flavor and hold their shape nicely as they bake. Mixing the two gives you the most complex flavor.
6. Red Delicious Apples
For 50 years Red Delicious was the most popular type of apple in the United States, and just in recent years became replaced by Gala (according to the U.S. Apple Association data). This American favorite apple has thin, but tough red skin and juicy flesh that tastes sweet when eaten fresh. When cooked, Red Delicious apple loses most of its flavor as it disintegrates into mush.
You can buy Red Delicious live apple trees for planting at PlantingTree, Amazon.
You can get organic Red Delicious apples delivered to your door by Amazon Fresh.
7. Braeburn Apples
Braeburn apples are some of the most flavorful and versatile around. They can be used in just about anything – from juicing to baking or eating fresh! These amazing large sweet fruits have natural notes of cinnamon and nutmeg which means they taste like apple pie right off the tree.
Braeburn apple trees grow in USDA hardiness zones 4 – 8. Apples ripen late: in Mid October.
You can obtain Braeburn apple trees for your garden from Amazon.
You can get Braeburn apples delivered to your door by Amazon Fresh.
8. Red Rome Apples
The self-pollinating, cold hardy Rome apple tree produces shiny red large fruit in just 2 -3 years after planting. Apples ripen in Mid October. This kind of apples taste sweet but also slightly tart – perfect for fresh eating or cooking! Rome apples hold their shape well when cooked and are considered the best baking apples of all.
9. Jonagold Apples
The Jonagold apple, a blend of Jonathan and Golden Delicious apples, offers the most uniquely tangy-sweet flavor with honey notes. The crunchy Jonagold apples have a yellowish green base with orange blush stripes. They are perfect for fresh eating as well as cooking purposes due to their dense texture that provides both taste and mouthfeel satisfaction without crumbling or breaking apart too easily.
Jonagold apple can be grown in a pot on your patio.
You can get a Jonagold tree for your orchard on Amazon
10. Pink Lady (Cripps Pink) Apples
Originated in Australia in 1973, Pink Lady apples are a hybrid of two other more popular apple varieties: Golden delicious and Lady Williams. Crisp, sweet-tart with firm white flesh and pink skin – this long storing apple is a winner! The best way to eat this delicious fruit is fresh in salads or with peanut butter on toast. Pink Lady apples are also good for baking, freezing, and making apple sauce.
Interested in planting a Pink Lady apple tree? Get it from Amazon.
Or buy crunchy delicious Pink Lady apples for snacking from Whole Foods delivered to your door.
If you cannot plant your own apple trees to enjoy delicious and nutritious fruit, look for an apple picking farm where you can go and harvest fresh apples. Nothing compares to the taste of an apple straight off the tree!
Read related:
Check out more articles on growing trees
Pin for later reference!
Final thoughts on the best sweet apple varieties
The apple types you learned about in this article are some of the sweetest varieties that exist. From grandma's favorite fruit to newer and sweeter-tasting apples, there is something for everyone here. I hope this article helped you to learn about apple varieties by sweetnes and helped you decide which type of sweet apples are most suitable for your taste and needs, and there is now no confusion when it comes to answering the question about what apples are sweet.
Pin for later reference!
You have read:
Sweet Apple Types