Last Updated on December 28, 2022
Mouthwatering squash fritters with a secret ingredient that makes all the difference!
This Squash Fritters recipe has a surprising secret ingredient – a small amount of grated potato, which makes all the difference in taste.
After your family tries these fritters, no doubt – they will be begging for more!
If you are like me and read a post with the purpose of getting a recipe right away, I know you want to be spared from going through a long winded story about my beloved grandmother that gave it to me and which memories it evokes. 🙂
So, here is your recipe.
Note: feel free to swap yellow squash with zucchini.
This post contains affiliate links. If you choose to purchase any of the products I have recommended, I may receive a commission at no cost to you. You can read my full disclosure at the bottom of the page.
SQUASH FRITTERS RECIPE
| | |
| --- | --- |
| Servings | 2 |
| Prep time | 20min |
| Cook time | 12min |
Ingredients
2 medium yellow summer squash, grated and drained (see more in step-by-step instructions)
1 medium peeled raw potato, finely grated
1/4 white onion, finely grated
1 clove of garlic, minced (optional)
1 egg
1 tablespoon of grated Parmesan cheese (optional)
3 -4 tablespoons of flour (white, rice, or whole wheat) or as much as needed to make mixture to hold together
1 sprig of parsley and dill, finely chopped
Salt and pepper
Tired of buying wilted (and expensive!) dill and parsley in the grocery store? Get Garden Lady's free eBook today and start growing your own culinary herbs. It's pretty easy!
Step by Step Instructions
1. Grate 2-3 medium squash (approximately 1.5 pounds) – use the largest holes on the box grater. Alternatively, you can use your food processor with grating blade.
Leave grated squash in a strainer placed in a bowl for 10 – 15 minutes, so the juice from squash can drip in the bowl.
2. Using the Blentec blender or your food processor with a universal blade, process together: 1 raw potato, 1/4 of onion, and 1 clove of garlic (garlic is optional). The mixture should look minced, with no large chunks. Alternatively, you can use star-shaped holes of the box grater to grate onion and potato, but protect your knuckles!
Place potato – onion-garlic mixture in the strainer to drain the excess of juice.
3. In a small bowl whisk 1 egg. Add to it the herbs and Parmesan cheese.
3. In a large bowl combine grated squash, onion and potato, 1 whisked egg, grated Parmesan, dill, parsley, pepper. Mix with a spoon.
4. Now start to add flour – 4 tablespoons should be about right. Proceed slowly by adding flour spoon by spoon – the mixture with added flour should be not runny, yet not crumbling and falling apart either. In other words – the batter should hold together well.
5. In a large skillet heat 2 tablespoons of olive oil. Add a large spoonful of batter to the frying pan. Pat the top of each fritter slightly with the spoon. I was able to place 4 fritters on the skillet for one batch. (It took me two batches to use up all batter). You can make your fritters smaller if you wish.
6. Fry fritters until they start to brown on the bottom and you will be able to flip them (it takes 3 minutes on my induction stove). Flip and fry 3 minutes more on the other side.
7. Move them to the plate, top with a dollop of sour cream and some sliced tomatoes, then gobble up! They will be gone in the blink of an eye. 🙂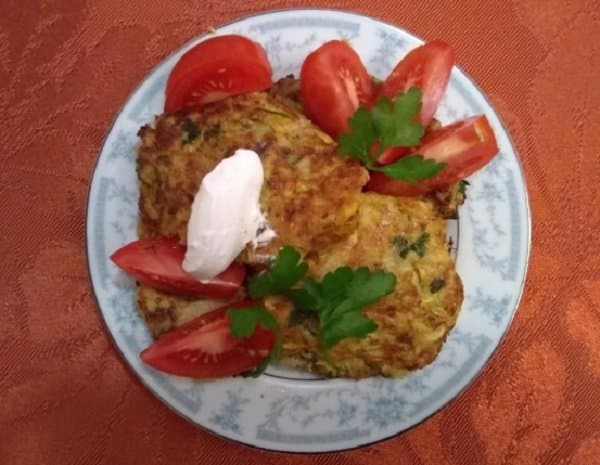 Craving more squash recipes? Then check out:
Have you ever made squash fritters? Share in the comments.
And if you found this article useful – be so kind to share with friends.