Last Updated on October 18, 2023
A kitchen garden (potager) offers both convenience and beauty in a compact space.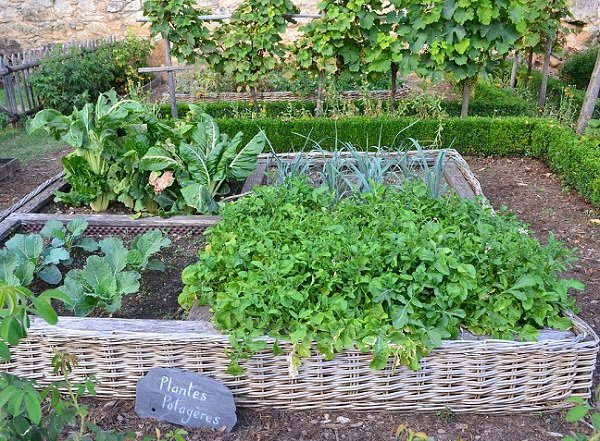 *This post contains affiliate links. If you choose to purchase any of the products I have recommended, I may receive a commission at no cost to you.
Where can you grow a kitchen garden?
If you lack the space for a traditional vegetable garden, a small kitchen garden can keep you in fresh, delicious produce all season long.
A good thing about a kitchen garden is that it does not require much land or garden tools. You can grow your kitchen garden plants in containers, planters and raised beds as well as in the ground.
You can have your kitchen garden on a patio, deck, balcony, and even on a windowsill. You can even go as far as replacing your kitchen window with a garden window (it's a hot trend now by the way).
What's a kitchen garden and how is it different from a traditional garden?
A kitchen garden or the potager (pronounced puh-ta-zhay), is a special kind of edible garden with a rich history tracing back to old English and French culinary gardens.
Much like a traditional vegetable garden, a kitchen garden is filled with delicious fruits, vegetables, culinary and medicinal herbs, and beautiful flowers. Beyond these similarities, there are some distinct differences between the two, however.
Main characteristics of a kitchen garden
A kitchen garden has three main characteristics: convenience, size, and beauty.
Convenience
One of the main characteristics of a kitchen garden is accessibility. It should be easy to grab the items you need to prepare your daily meals. Therefore, a potager should be located as close to your food preparation area as possible.
Imagine you are in the middle of making dinner when you suddenly realize your marinade could use a little more thyme or your salad will benefit from addition of dill and chives. Rather than trek out to your main vegetable garden (and put a jacket on if the weather is cold) while you have pots simmering on the stove, wouldn't you rather be able to reach right outside your door to snip a couple sprigs?
Size
Kitchen gardens are usually smaller than traditional gardens because they are situated so close to the house.
Unlike a regular vegetable garden which is all about growing fruits and vegetables you plan to preserve for future use and that take up a lot of space – like potatoes or corn, a kitchen garden is about enjoying today and is normally filled with the items you prepare and eat while fresh.
Therefore, containers of fresh herbs, compact cherry tomato plants, or an assortment of leaf lettuce varieties all make great choices for a potager.
Beauty
While a standard vegetable garden is all about utility and production, part of the charm of a kitchen garden comes from its ornamental aspect. Due to its proximity to the house, a kitchen garden is harder to tuck out of sight than a traditional garden. Therefore, they are often designed to add a sense of beauty to your home, as well.
Some herbs, such as lemon thyme, can be used to create a beautiful and fragrant border around plants and containers. Edible flowers, such as violas and daylilies, can be incorporated to add a splash of color. Compact blueberry shrubs are also highly ornamental and make a wonderful, yet functional border.
Planning a Potager
A well-planned potager, or kitchen garden, can be a beautiful and enticing way to incorporate more fresh fruits, vegetables and herbs into your diet.
The following tips will help you plan a productive and practical potager.
Pick the perfect spot
When choosing a location for your kitchen garden, try to find a spot as close to your kitchen as possible. After all, you want your own personal culinary garden to be easy to reach while you are preparing meals.
The location you choose must also take into consideration the kind of environment your plants prefer. Choose a sunny location that receives at least 6 hours of direct sunlight per day. If you live in a really hot climate, you may find a bit of afternoon shade is nice to have, as well.
Make sure the location you choose has easy access to water. You definitely don't want to drag a heavy garden hose around the house or carry buckets of water in order to keep your plants hydrated.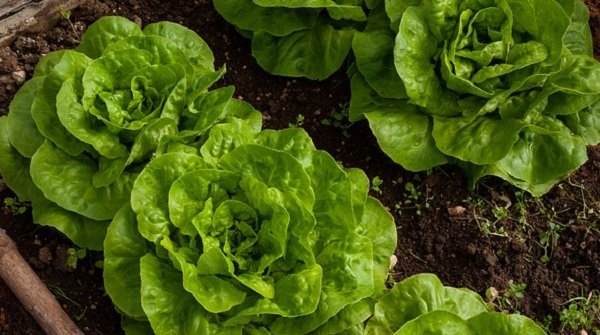 Choose your plants
The easiest way to decide what you want to grow in your potager is to think about what your family likes to eat and what you are cooking often.
For example, if you use a lot of fresh herbs, you'll want to keep a big supply of your favorite varieties on hand. Husband can't get enough of your homemade salsa? Plan to have fresh cilantro and juicy tomatoes nearby. Like to unwind in the evening with a cup of fragrant herbal tea? Plant mint or lemon balm in your potager.
In other words, you want to stock your kitchen garden with fruits, vegetables, herbs and edible flowers you use in your day-to-day cooking. These are the items you will want to have convenient access to throughout the growing season. Items you plan freeze, can or otherwise preserve for later use are ideal for your regular vegetable garden.
Consider growing herbs in your garden. Herbs are easy to grow, improve the taste of any dish, and some of them are perennial and even evergreen. For example, a rosemary bush paired with few kinds of thyme under it and a decorative statue with gazing ball, brings interest to your garden and makes a lovely view from your kitchen window all year around.
I grow in my potager sorrel, chives and garlic chives, lemongrass, purple basil, dill, mesclun mix, oak lettuce, arugula, alpine strawberries, lemon and German thyme, rosemary, sage, parsley, cilantro, radish, onion sets, kale, cutting celery, carrots, beets, cherry tomatoes, Japanese eggplant, hot pepper, calendula, lemon balm, korean mint, clematis, thornless raspberries and blackberries on the fence, periwinkle, nasturtium, and a lily tree.
What are you planning to grow in your small kitchen garden?
Get a sheet of paper and write it down.
Related reading:
Read more on what kind of small garden you can start
Utilize vertical space
Take advantage of as much vertical space as possible to maximize your growing area. Consider growing different kinds of strawberries or lettuce in a vertical container.
Use hanging baskets suspended on shepherd hooks for your favorite herbs and flowers. Just make sure you keep them well watered as hanging baskets tend to dry out more quickly.
You could also add a garden trellis or incorporate a fence into your design to provide support for climbing plants, such as asparagus beans, peas, pole beans or cucumbers.
If your potager has a blank wall with good sun exposure, you could add a ladder-like series of shelves to house a lot more plants than you could fit into the ground you have available.
Make your small kitchen garden beautiful
Your kitchen garden is an extension of your home and will likely be visible to your family and guests. So, making the area as attractive as possible just makes good sense.
Balance, symmetry and repetition are components of any good garden design.
To incorporate balance and symmetry into your potager, try adding two matching brightly colored ceramic or fiberglass containers filled with herbs and place them on each side of the entrance.
For repetition, add multiples of the same plants throughout the garden. For example, a group of 3 cherry tomato plants in attractive containers will have a stronger visual impact than a single plant.
You can also create a sense of order by planting lovely borders of edible flowers or fragrant herbs along walkways.
Enhance the beauty of your garden with bamboo wind chimes, stone bench, or cute little garden gnome.
If you are interested in building a potager with formal design, read this article
One great thing about making your garden beautiful is you may find you want to spend more time in an area that nourishes both your body and soul.
Related reading:
Final thoughts on a small kitchen garden
As you can see, a kitchen garden offers both convenience and beauty in a compact space. The best part is that it doesn't take much to get started. All you need is a couple large pots, some fresh herbs, your favorite compact tomato plant and lettuce varieties and you'll be on your way!
Happy gardening!👩🏽‍🌾
If you found this article useful, be so kind to share with friends.
You have read:
Kitchen garden – potager