Last Updated on August 19, 2022
This simple to prepare keto squash casserole is perfectly suited for keto make-ahead meals.
This Keto Squash Casserole recipe has all keto-friendly (very low carb) ingredients: eggs, a little bit of sour cream, Parmesan cheese and yellow squash.
Yellow squash can be easily swapped with zucchini.
The main star of this recipe is squash which is perfectly suitable for the keto diet.
According to dietdoctor.com summer squash (straight and crooked neck yellow squash, zucchini) has 3 grams of digestible carb per 100 gram (3.5 ounces) serving, and being lower in carb this keto vegetable can be eaten freely.
One clove of garlic used in the recipe contains 1 gram of digestible carbs.
*This post may contain affiliate links. If you choose to purchase any of the products I have recommended, I may receive a commission at no cost to you. You can read my full disclosure at the bottom of the page.
Before we move on to the recipe, I just want to note that for some reason this yellow squash casserole tastes much better on the second day after being refrigerated overnight. So, it can be a perfect choice for keto make-ahead meals: breakfast or lunch. You can actually prepare squash casserole on Sunday, cut it into portions and have for Monday-Tuesday breakfasts (or lunches). Easy-peasy! 🙂
KETO SQUASH CASSEROLE RECIPE
| | |
| --- | --- |
| Servings: | 6 |
| Prep Time: | 20 min |
| Cooking Time: | 40 min |
| Use For: | Breakfast, Lunch |
Ingredients
3 young squash (up to 6" long, approximately 1.5 pounds), grated
5 eggs
1 tablespoon of sour cream (or mayonnaise)
1⅓ cup of hard or semi-hard cheese (Parmesan, Swiss, Gouda, etc), divided
1 clove of garlic, minced (mincing garlic with this "no need to peel" garlic press is a breeze)
1 tablespoon of fresh chopped herbs – dill, parsley, green onion, or chives
¼ teaspoon of salt
¼ teaspoon fresh ground pepper
Cooking spray (or butter) to a grease casserole dish
Cooking Basics
Fritatta – egg dish started on the stovetop and finished in the oven.
Quiche – vegetables and egg/milk mixture baked in a pie shell.
Casserole – an oven-baked meal in a casserole dish. (Casserole dish is a deep pan, usually made of earthware or glass, that is used for both: baking and serving.)
Step by Step Instructions
1. Grate 2-3 medium squash ( approximately 1.5 pound) – use the largest holes on the box grater.
Leave them in a strainer placed in a bowl for 15 – 20 minutes, so the juice from squash can drip in the bowl. This will insure that your squash is pretty dry, and the casserole will not be soggy.
2. Meanwhile in a large bowl beat 5 eggs with a whisk (you can use 4 eggs if they are extra large), add 1 tablespoon of sour cream (or mayo), salt, pepper, a little bit of chopped dill and parsley, minced garlic and whisk some more.
3. Stir 1 cup of grated Parmesan cheese into the mixture. (You can experiment with cheeses, for example smoked Gouda, or Swiss cheese can be great substitute).
4. Fold grated squash into egg/cheese mixture, move into greased 9 x 9 casserole dish.
5. Top with 1/3 cup of leftover cheese.
6. Bake uncovered in 370℉ oven for around 40 minutes. The casserole should be golden brown on the top, and set in the center.
You can prick it with toothpick – if the toothpick comes out clean , then the dish is ready.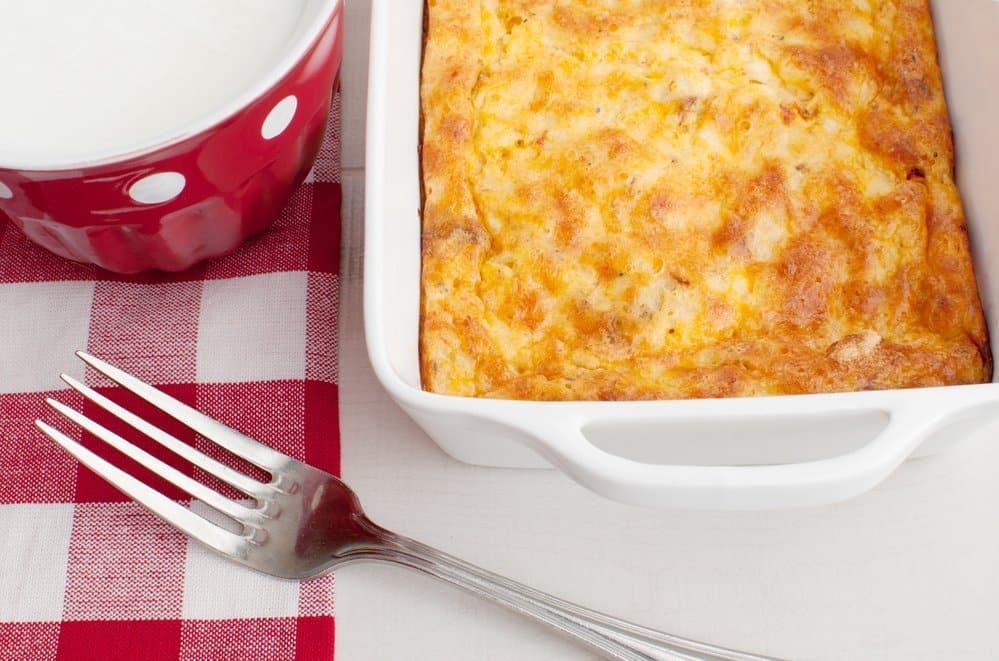 7. Let it cool off and then cut into portions.
You can eat squash casserole fresh, and leave some for the next day's breakfast – it does taste better the next day.
Enjoy!
Related reading:
Check out more fresh garden recipes.
What is your favorite yellow squash recipe? Share in the comments.
And if you found this article useful – be so kind to share with friends.