Last Updated on February 8, 2023
The garden hose reel cart with wheels will make using and storing your 100-foot or longer hose really simple. Find out why and learn what's the best hose reel cart with wheels on the market these days.
For busy people who are in a hurry:
✅The Best Hose Reel Cart with Wheels
automatic hose guide system
holds up to 250 ft. of 5/8in. hose
5 foot leader hose included
4 wheels with 10in. flat-free tires
strong and durable steel frame with a corrosion-resistant powder-coated finish
heavy duty brass fitting
non slip handle grip
integrated basket to store accessories
2-year warranty
*This post contains affiliate links. If you choose to purchase any of the products I have recommended, I may receive a commission at no cost to you.
Who should get a hose cart with wheels
If you have a container garden on your deck or patio and a garden hose up to 50 feet is satisfactory for your watering needs, then most likely a metal hose pot or a wall mounted hose hanger is all you need to store your garden hose conveniently. (Read more about other hose storage options for your small garden).
If you must use a 65 -115 foot hose, a retractable hose reel will be the best hose storage solution, because it will save you time and frustration. (Discover more about auto hose reels).
But what do you do if you need to use 200 or even 300 feet hose because you have a large property with a garden and fruit trees on both sides of the house that require frequent watering during summer heat?
Moreover, you live in a region with cold winters where you must bring your hose to a sheltered place like a garage or shed to protect it from freezing temperatures. Or maybe you reside in a place where a hurricane can strike and during a storm warning you are required to move all outside objects into a secure location.
In this case, getting a garden hose reel cart with wheels makes a lot of sense.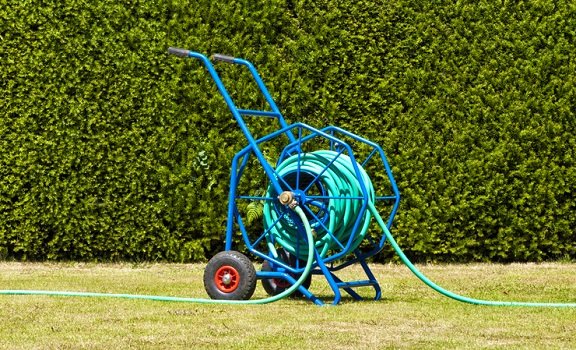 The benefits of a hose reel cart with wheels
lifts your hose off the ground, so it won't ruin your grass
keeps you and your family safe – no more hose laying on the ground to trip over
helps keep your water hose organized and untangled after you are done watering your plants and flowers
unlike with retractable hose reels where you cannot change a hose for retraction to work, a hose reel cart allows you to use any water hose you want! It's extremely important if you want to use a non-toxic hose in your garden
allows moving your hose easily to another outdoor faucet to use on the other side of the house
makes it simple to store your hose in the garage or other shelter during winter time or storm warnings.
Disadvantages of garden hose cart with wheels
you need to crank a hose on the reel manually. If you are in your golden age or have weak hands, it can be quite a tiresome task
takes a significant amount of space if you store it in the garage.
3 Best Hose Reel Carts with Wheels Reviews:
built for tough jobs and ease of use
tubular steel frame with a corrosion-resistant and weather resistant industrial powder-coat finish
4 wheels
10-inch, no burst tires
can hold up to 250 feet of 5/8 inch hose (hose is not included)
5 foot leader hose (included)
brass fittings and couplers
integrated basket for storing accessories
size: 21.85″(L)* 36.81″(W)* 37.40″(H)
Pros:
large hose holding capacity for a manual reel – up to 250 feet 5/8″ hose
includes 5 foot inlet hose to reach your water source
polyurethane belt that connects the reel to the guide helps the hose to wind neatly
flat-free tires never need to be inflated
large crank handle makes it easy to wind and unwind the hose
convenient tray on the back of the hose cart for holding nozzles and other items
strong and durable
all brass fittings
well designed hose guidance system
non slip foam padded handle
good customer service for this product
2-year warranty
Cons:
some customers complained that the cart was hard to assemble due to poor instructions
some reviewers reported faulty hose guide function
the hose tends to loosen up on the reel,
Verdict: Giraffe Tools garden hose reel cart delivers convenience of long garden hose management at reasonable price.
well priced and great for home, farm or commercial use.
made of 13 gauge steel
4 wheels
10-inch pneumatic tires
can hold 300 feet of 5/8 inch hose (hose is not included)
5 foot leader hose (included)
Non slip handle grip
Brass/galvanized fixtures, 90 degree brass swivel connector
weight: 43 pounds
The advantages:
well designed
heavy duty, great for larger hoses
easy to move to different location when needed – tires move with ease over grass, gravel and uneven surfaces
no leaks
cart won't tip when unrolling the hose
The downside
cart tends to move around when you are rolling up your hose
may rust with time if not protected from weather (this issue can be solved by spray painting the parts with Rust-Oleum to prevent rust, fading and chipping before you assemble a cart)
bearings on wheels may get rusted causing locked wheels.
Verdict. If you are looking for a well priced garden hose reel cart with wheels the Liberty 4 wheel garden hose reel cart is a perfect choice! It's great design, sturdiness and maneuverability will assist you greatly in rolling up and storing large and bulky garden hoses.
2 wheel design combines sturdiness and maneuverability
made of 13 gauge steel
2 wheels
15.5″ spoked pneumatic tires
can hold 300 feet of 5/8 inch hose (hose is not included)
5 foot leader hose (included)
integrated storage basket
brass/galvanized fixtures, 90 degree brass swivel connector
weight: 36 pounds
Pros:
weather resistant durable powder coat finish
low center of gravity prevents tipping
two wheel design prevents cart from moving when you are winding your hose on the reel.
Cons:
Some customers reported:
rusting and paint peeling off
the tires go flat
the leader hose leaks
Verdict: Liberty 2 wheel garden reel cart delivers sturdy support for ease of rolling and unrolling your water hose while providing great maneuverability when you need to move your cart.
Some tips for choosing the best hose reel cart with wheels
The following are the things that you must not overlook when searching for the best hose reel cart with wheels:
This is the first thing to check: can a cart support the lengths of hose needed to water all your vegetation in the farthest corners of your property?
Look for a cart that is made from durable material, like tubular steel. Check out if the cart material is protected with a weather resistant finish.
I need to disappoint you: I couldn't find even one hose reel cart with wheels where customers didn't complain about the cart rusting over time. The best idea to prevent this from happening is to spray the cart parts with Rust-Oleum or marine paint and let it dry before assembly.
I know it's an extra step, but you most likely will need to take it if you want to protect your investment.
The cart with a low center of gravity won't tip easily.
Decide how often you need to move your cart. If it needs to be wheeled almost daily to use with the water source on the other side of the house, choose a 4 wheel hose reel cart for easy maneuverability.
On the other hand, if you need to move your cart to the storage just once a year, then 2- wheel design will make winding and unwinding your hose much easier because it will prevent your cart from constant movement.
It would be great to buy a hose reel cart with locking wheels, but I wasn't able to find one.
Go for flat free tires if you can, it will save you time and frustration.
It's all about convenience of use.
Check if the handle has a non-slip grip to assist you in moving your hose reel cart easily to the desired location.
Also, pay attention to the assembled cart height. Does the cart height make it easy on your back to wind the hose on the reel? Is it sturdy enough not to require you to hold it down with your foot while winding your hose?
Related reading:
Learn more about
Final thoughts on garden hose reel carts with wheels
A hose reel cart with wheels is a perfect hose management and storage solution for homeowners and gardeners that must use 100 foot + hose. In other words, this product is most useful for larger property owners.
You can choose between two or four- wheel design, depending on what's more important to you: sturdiness or maneuverability.
Pin for later reference!
You have read:
Best hose reel cart with wheels