Last Updated on May 28, 2023
Add some Zen to your garden with wooden bamboo wind chimes.
You'll find answers to the following questions in this post:
How are bamboo wind chimes different from metal chimes?
How do wooden wind chimes sound?
Where can you place them?
Where can you buy bamboo wind chimes?
How do you maintain your chimes?
How do you make your own bamboo chimes?
If you want to add a perfect elegant finishing touch to your garden, consider getting a wind chime made of bamboo.
*This post contains affiliate links. If you choose to purchase any of the products I have recommended, I may receive a commission at no cost to you.
Bamboo wind chimes benefits
bamboo chimes are not overly loud in comparison with metal wind chimes, so they will not disturb you or your neighbors when placed outdoors
unlike thr sound of metal wind chimes that brings yang energizing bright energy, wooden wind chimes sound is more yin and serene
the calming, peaceful, soothing sound of bamboo wind chimes helps you relax, unwind, calm down, and fall asleep easier
wooden chimes look natural in the garden, they blend with nature
bamboo chimes are made of natural and eco-friendly bamboo wood which is a 100% renewable resource
they can be used for decoration and for setting mood indoors and outdoors
they look great in places of meditation and yoga
perfect for Zen garden
they make wonderful gifts for gardeners or people interested in spiritual practices.
Bring some Zen to your Garden with this unique hand-crafted Gilbert Gooney Bamboo Wind Chime.
offered by Wayfair.
Bamboo wind chimes sound
Bamboo wind chimes make mild, muted, hollow, clicking sounds when the bamboo reeds hit each other. I would describe their sound as subtle and soothing.
They sound very different from metal wind chimes and they are not very loud: 20-30 decibels in a light breeze.
You can listen to the sound of a bamboo wind chime and see it "in action" in this YouTube video made by ASMR.
Where do you hang bamboo wind chimes?
You can place your chimes outdoors or indoors.
Outdoors: you can hang them from a tree branch or shepherd's hook in the garden, from a ceiling hook or a wall bracket on the balcony, patio, screened porch, or deck.
Indoors: place them in a room where you do your meditation or practice yoga. A sun room, as well as an infant bedroom are also perfect spots for your bamboo wind chimes.
Bamboo wind chimes will last longer when positioned in a sheltered location away from strong winds, direct sunlight, and rain.
Bamboo wind chimes Feng Shui
According to classical Feng Shui bagua, wood element is connected to East (family) and South East (prosperity), so hanging bamboo wind chimes in these areas of your house will strenthen the element of wood which should improve family and money luck.
Placing bamboo chimes in the South area of the home will strenthen the element of fire (fame), since wood gives birth to fire according to Wu Xing (Chinese theory of 5 elements).
Where to buy bamboo wind chimes?
Amazon, Overstock , Wayfair, Woodstock Chimes, Home Depot, Lowes carry bamboo wind chimes. (Click on the links above to see which wooden chimes each store offers).
Among online stores, Amazon and Wayfair provide the biggest choice.
Wayfair offers very unique and highly decorative wind chimes. Check them out!
Best bamboo wind chimes on Amazon
1) Simple, natural look
Classic, simple, natural, yet the most popular style.
ASTARIN Bamboo Wind Chimes – Classic Zen Garden Windchime for Relaxation.
Length: 30″
Woodstock Asli Collection bamboo wind chimes are hand-made in Bali.
Dimensions: 36″ (from top of gather ring to bottom of wind catcher)
Remiawy bamboo wind chimes with a clear varnish.
Dimensions: 32″ (from top of the hook to bottom of wind catcher)
2) bamboo wind chimes with wood burned design
The design (usually floral) is burned onto the chime using an open flame and then topped with a coconut shell.
Cohasset floral wind chime Comes in 3 sizes: small, medium, and large.
Beachcombers burnt flowers wind chime Dimensions: 37 inch from wire hanger top to bottom.
3) bamboo wind chimes/birdhouse
Perfect for gardeners and birdwatchers, these wind chimes are combined with bird house.
Nalulu bamboo wind chime/birdhouse
Dimensions: 40″ (from top of the hook to bottom of wind catcher)
Wind Music wind chime/birdhouse
Dimensions: 36″ (from top of the hook to bottom of wind catcher)
Dimensions: 35″ (from top of the hook to bottom of wind catcher)
4) unique bamboo wind chimes
Each design is its own unique work of art.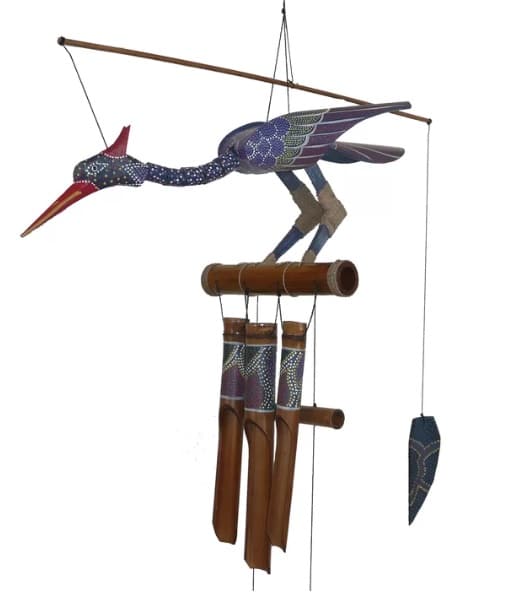 offered by Wayfair.
offered by Walmart.
Unique wooden boat wind chimes.
Offered by Walmart.
How to care for bamboo wind chimes
Though almost all bamboo wind chimes are protected with a coat or a few coats of varnish, they will wear off over time.
To enjoy bamboo wind chimes outdoors for years to come, hang them in an area that is protected from direct sunlight. Also, it is a good idea to bring wind chimes into a sheltered place during extreme weather or windstorms.
For general maintenance, clean bamboo wind chime with a damp cloth and apply a non toxic mineral oil or non toxic wood sealer once a year.
If your chimes hook accidentally breaks or is worn out, you can get swivel hook clips for hanging wind chimes and spinners. 
DIY bamboo wind chimes
If you grow bamboo in your backyard (huge mistake in my opinion, because the bamboo will not only take over your yard, but also will spread to your neighbors) you can make your own wind chimes.
If you are up to a bamboo wind chimes DIY project, then follow the step-by-step instructions in this guide.
Related reading:
Check out more garden decor products
Final thoughts on wooden chimes
I hope you were able to pick your favorite bamboo wind chimes to add serenity and at the same time cool vibe to your space.
Enjoy your relaxing and peaceful garden!💐
Read related:
Pin for later reference!
You have read:
Bamboo wooden wind chimes